Reduce Your
SAP BusinessObjects Costs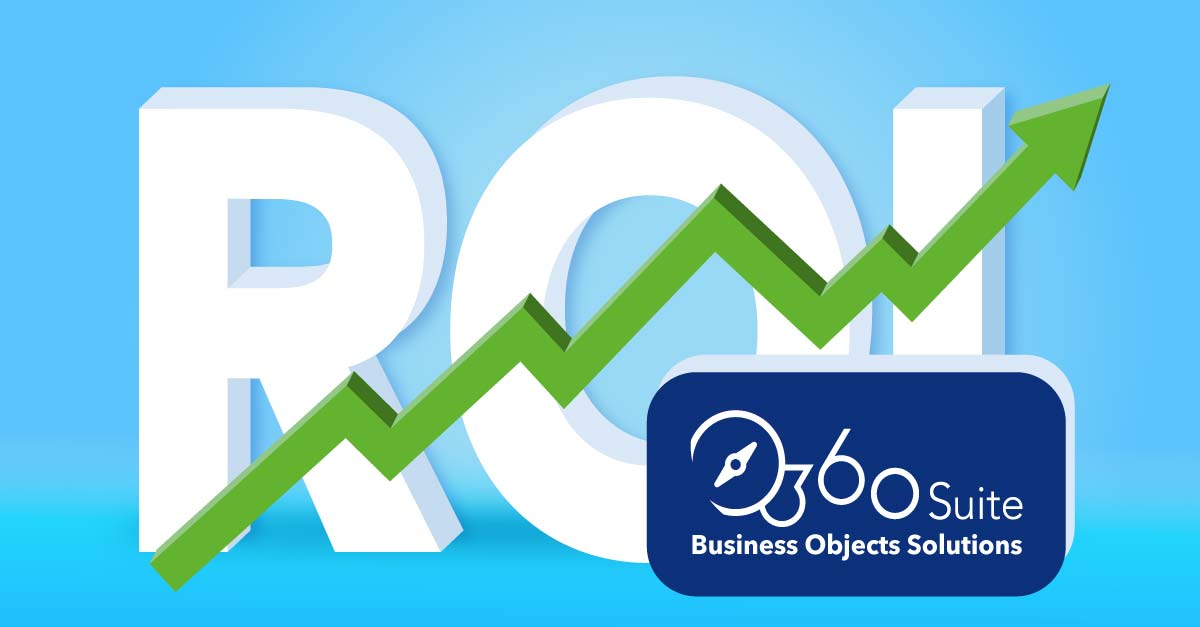 Why should you invest in third-party solutions to enhance Business Objects? Because time is money, and 360Suite saves both. 360Suite provides an immediate return on investment by reducing operational and technical costs, providing metrics for executives, and mitigating risk. It also answers important questions like, "Who? What? When? Why? How?" that are difficult, if not impossible, to answer with Business Objects alone. 360Suite empowers business users to be more self-sufficient and less reliant on IT professionals. By supplying metadata and bringing automation, 360Suite makes it easier, faster, cheaper, and safer to maximize the value of Business Objects.
REDUCE OPERATIONAL COSTS
Licensing
When it comes to service-level agreements (SLA), the goal is to pay for only the licenses you use. To achieve this goal, you must be able to evaluate the number of Named User Licenses (NUL) and/or Concurrent Session-Based Licenses (CSBL or CAL) in the context of actual usage. 360Suite makes this possible by displaying essential metadata, including the number of users and sessions over time, in customizable prebuilt Webi reports. Spend money wisely by investing in the right licenses in the right format. If you are converting to CSBL licenses, do so with crystal-clear insight.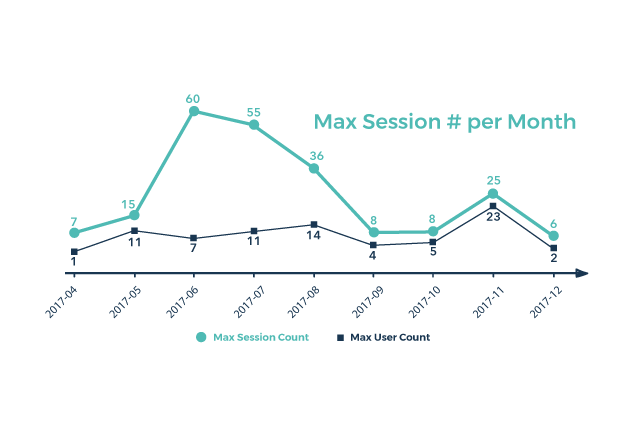 Upgrades and Migrations
Upgrades and migrations are time-consuming and expensive no matter the type (database, on-premise, cloud-based (AWS, Azure, SAP HEC, SAP NS2, etc.), DBMS consolidation, etc.). 360Suite reduces the cost of upgrades and migrations up to 80% by automating the process of cleaning, qualifying, and moving content. 360Suite also locates unused content and isolates, archives, or deletes it, as desired. Finally, 360Suite identifies bottlenecks and compares the performance of Business Objects in the cloud versus on-prem. Our customers' success stories are proof of the 360Suite ROI. ARI saved more than $500k on a migration, the City of Chicago saved the annual cost of a full-time consultant, and Lockheed Martin saved more than 1,000 man-hours in the first six months with 360Suite.
Regressions
Regression testing is critical after an upgrade or migration, database change, ETL change, or regularly for quality assurance in the case of sensitive reports. Regression testing ensures that data, pixels, security, and metadata remain consistent between versions, environments, and databases. But regression testing is onerous and time-consuming, especially for business users, so organizations typically take one of three approaches:
They do nothing and hope for the best;

They ask users and business leaders to check reports manually;

They hire third-parties to perform expensive regression testing.
When regression testing is done poorly or not at all, organizations may lose trust in the data or fail to comply with requirements. By automating the process, 360Suite makes it quick and easy to perform regression without the need for outsourcing. The largest U.S. motorcycle manufacturer reduced the number of consultants needed for regression testing from 16 to 2, and kept sensitive data in-house by using 360Suite.
Administration
Administrative tasks are often repetitive and prone to human error. Consider the case of an employee who assumes a new function within your organization. Can you easily determine what the employee has access to–explicitly and via inherited or double-inherited rights–in order to modify access to reflect the new role? 360Suite performs administrative tasks faster and better through automation and bulk updates, making it possible to do more with less so IT can focus on other priorities. Vanderbilt University Medical Center reduced administration time by 75% with 360Suite.
Outsourcing
Organizations outsource business intelligence for numerous reasons with varying degrees of success. 360Suite makes it possible to supervise outsourcing providers by measuring their efficiency and documenting their output. The powerful 360Suite user interface puts you in the driver's seat and enables you to take quick action, including restoring content to a prior version, when issues impact business. 360Suite also provides a way to measure work quality, track security changes, monitor activity, including on sensitive content, and ultimately empower execution by outsourcing partners.
REDUCE TECHNICAL COSTS
Hardware Requirements
Most deployments grow in size over time because content is constantly added. As a result, organizations must spend money to store and process additional content. 360Suite automates the process of locating unused content and isolating, archiving, or deleting it, as desired. Less content means fewer problems and less money spent managing unnecessary documents.
Bottlenecks
Poor performance costs time and money. 360Suite can identify Business Objects bottlenecks (e.g. end-of-the-month reporting), determine the optimal time of day to process reports, and compare the runtime of reports in different environments (e.g., on-prem vs. cloud), with monitoring done via lightweight HTML 5.
System Crashes
Bottlenecks and poor performance can lead to system crashes. 360Suite makes it possible to schedule reports so they run at optimal times, set alerts that are triggered by long-running reports, and locate those reports.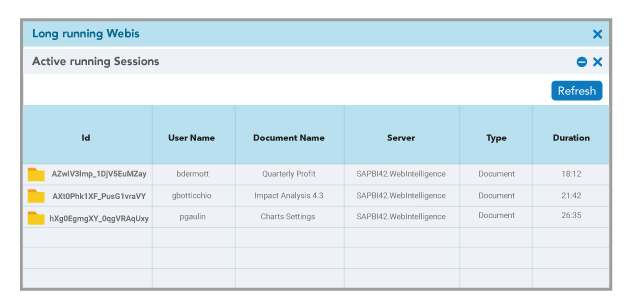 Consultants
Many organizations rely on expensive BI consultants to implement and upgrade Business Objects. 360Suite automates routine tasks, so consultants can apply their valuable technical expertise where it matters most.
Automation
360Suite automates migrations, service pack upgrades, account recertification, regression testing, auto-cleaning of content and inboxes, archiving, and regulatory implementation. Fewer manual inputs means more time and money for high value-added tasks.
CREATE SYNERGY BETWEEN BUSINESS UNITS AND IT
360Suite accesses all Business Objects metadata, performs BI on BI, and provides metrics to executives in the form of customizable prebuilt Webi reports. Reports comply with IBCS standards and supply key BI metrics without polluting artifacts.
User Adoption
Business Intelligence is only valuable if it is used. 360Suite provides BI metrics and key performance indicators related to user adoption of Business Objects, which are essential for a cost-benefit analysis. 360Suite also identifies reports that, based on usage and design, could be improved with a data discovery tool.
BI on BI Assessment
BI on BI assessments empower organizations to make decisions based on facts. 360Suite supplies the metadata needed to answer questions like:
How mature is my BI platform?

How can I optimize my BI platform?

Are my licenses being used and do I have the optimal license pool?

How do usage/non-usage trends impact future BI needs?

Application Usage (and Non-Usage)
Applications are only valuable if they are used. 360Suite provides BI metrics related to actual application usage so organizations can optimize licensing and evaluate the need for training.
Chargeback / Showback Information
Sometimes, organizations want or need to understand who is using Business Objects, and how. 360Suite provides metrics that allow for cross-charging of Business Objects among departments, adapted for specific business needs.
Cost of Development
The cost of developing and maintaining documents and Universes should not exceed their value to an organization. 360Suite makes it possible to evaluate the number of users and actions performed on documents and Universes to ensure that they remain a worthwhile investment.
Center of Excellence
Business Objects Centers of Excellence (BI COEs) provide leadership, best practices, research, support and/or training. They require metrics related to environment efficiency and effectiveness in order to address current IT and business requirements while planning for the future. 360Suite metrics make it possible to understand the BI landscape and maturity, compare BI investments to BI returns, and predict future needs.
MITIGATE RISKS
Regulatory Requirements
360Suite provides the comprehensive information needed to comply with regulatory requirements (e.g., SOX, HIPAA, FISMA, GDPR, etc.). 360Suite offers solutions related to documentation, separation/segregation of duties, account recertification, disaster recovery, monitoring of sensitive content, regression testing, version control, auditing (who, what, when, where, why), and more.
Security Breaches
360Suite provides critical insight into who has access to what in Business Objects. With 360Suite, it's easy to modify access rights, remove access from terminated employees, and document the changes.
Sensitive Content
360Suite makes it possible to flag sensitive content (documents and Universe objects), monitor activity on sensitive content, including actions, non-actions, and abnormal behavior, and set alerts.
Regression Testing
360Suite makes it easy to perform regular regression testing on data, images and metadata, to ensure accuracy and enforce security.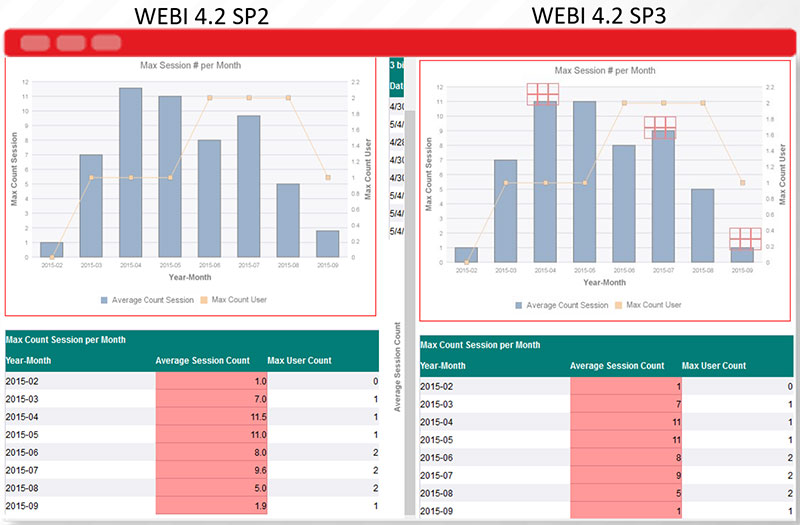 Availability
360Suite ensures high availability by making it possible to restore individual objects or an entire environment in minutes. Unlike a typical recovery strategy, which involves backing up the entire Business Objects server and CMS database, 360Suite backups are incremental and have little impact on the platform. This provides the advantage of being able to roll back to any previous version of any object (personal documents, security settings, users, Universe connections, etc.) at any time. 360Suite can also synch with disaster recovery sites. 360Suite incremental backups are particularly important for organizations that host Business Objects in the cloud or on a VM, because if objects, documents, and Universes are corrupted, so too are the mirrored backups.
WHY 360SUITE?
Why is 360Suite the most popular Business Objects solution on the market? Because it pays for itself. By reducing operational and technical costs, providing executives with metrics, and mitigating risk, 360Suite makes it easier, cheaper, faster and safer to maximize the value of Business Objects. It also creates synergy between IT and business units. Customers ranging in size from 7 users to more than 100k users have proved the 360Suite ROI. That's why 98% of our 500+ global customers renew every year.