How City of Chicago uses BI on BI to improve metadata management, increase security, and save money

BI on BI – what is it?
The official definition of BI on BI is: "Practices as well as available tools to help professionals optimize and streamline their BI platforms, tools, and applications."
In many companies, the current BI infrastructure analysis level is either non-existent, or very limited, or it relies on BI software native tools which are limited.
Why is this analysis important or necessary? It provides a quantitative measure of BI enterprise performance. It gages the level of satisfaction. It allows implementing greater system security. Most importantly, it provides hard data as proof that is useful in decision making, both IT and business.
BI environment at the City of Chicago
City of Chicago's BI environment has evolved in line with Business Objects releases. From 2000 until 2016, their landscape has gone from 5x, 6x, XIR2, XI 3.1, BI 4.2. It is the primary reporting tool for the City (311, 911, the police and fire services, W2's, Purchase Orders and Invoices systems). The key statistics of this environment that consists of two clustered Prod servers, plus Test and Dev are as follows:
1500 users
90 Prod universes
96,000 reports, of which 18,000 Deski reports (there were 130,000 reports before the BI on BI implementation).
About 800 reports are scheduled daily
Webi, Deski, Webi rich client and Crystal reports are used
City of Chicago has met the following challenges:
After 18 years of continuous use, what exactly do they have?
Solid preparation for BI 4.x migration is critical for a successful outcome
Intelligent removal of unused content (users, objects and instances) needs to be performed
Key data metrics for the management in order to justify any migration/future BI related investments (hardware, license)
Performance and reliability improvement
BI on BI within SAP Business Objects
The BI Administrators' Cockpit (CMC) Available as part of SAP BusinessObjects provides the following info:
Servers
Scheduled Jobs
Users and Sessions
Content Usage
Applications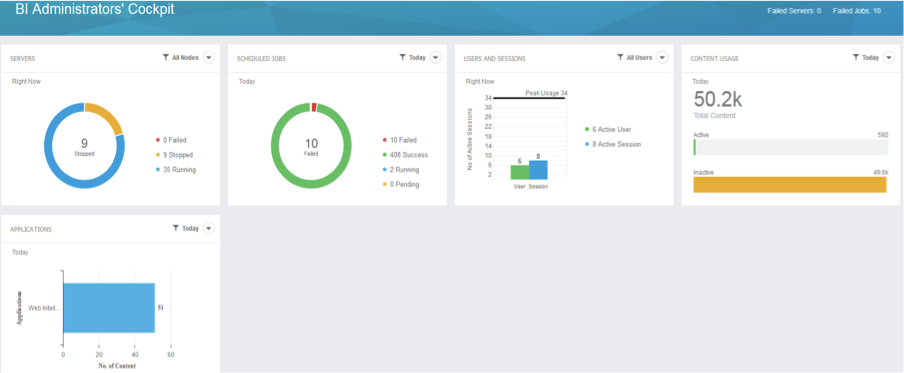 Monitoring within the CMC gives access to the following metrics:
Main Dashboard
Metrics
Watchlist
Probes
Alerts
However, they don't provide a full BI on BI analysis that will allow you to make informed decisions.
Using metadata only from the CMS and the Audit will be limited. The filestore (Input and output) contains metadata and leveraging it opens up more opportunities to discover interaction and usage of documents, instances and universes.
Additionally, querying directly the CMS and Audit is bulky and complex. Why not use the power of Webi reporting to abstract those DBs into universes and create reports to retrieve the data?
Moreover, direct querying will impact the performance of the CMS and Audit DBs, especially in Prod. Extracting this metadata into an offline data store mitigates this risk.
BI on BI using SDK/third party tools
360Suite solutions allow to connect to the BI environment via the BOE Java SDK, thus providing greater details, all available via Webi reports. You can find out about: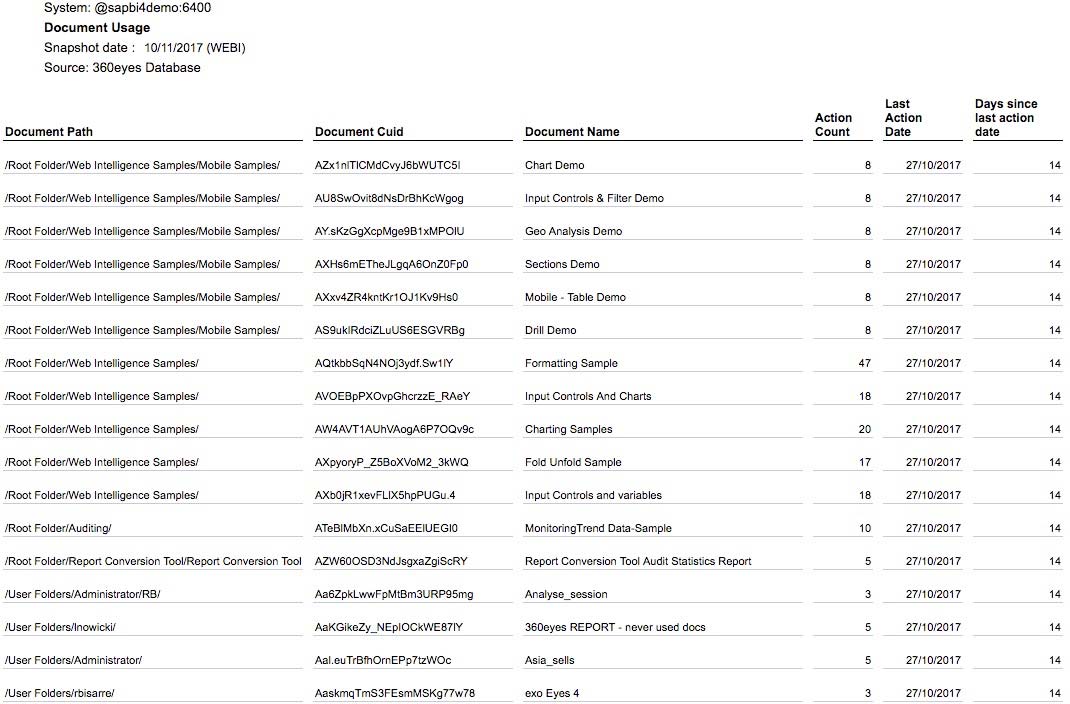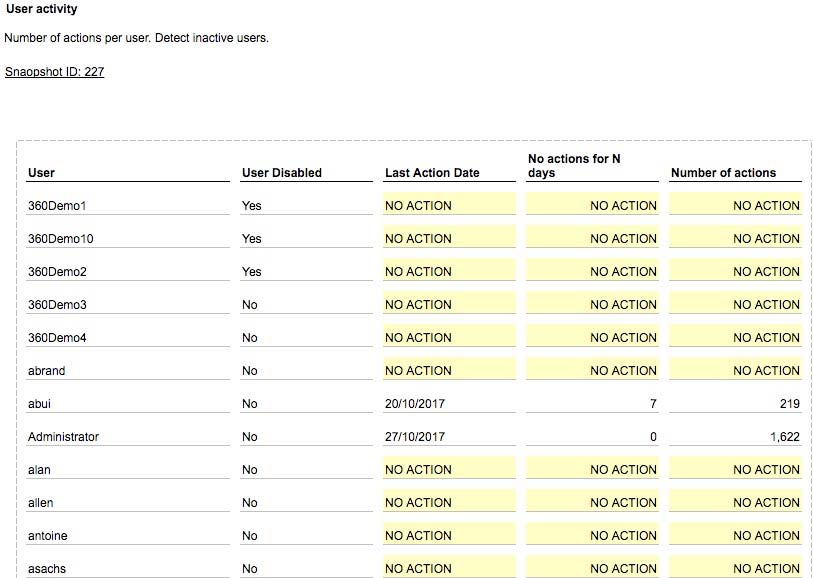 Object detail documentation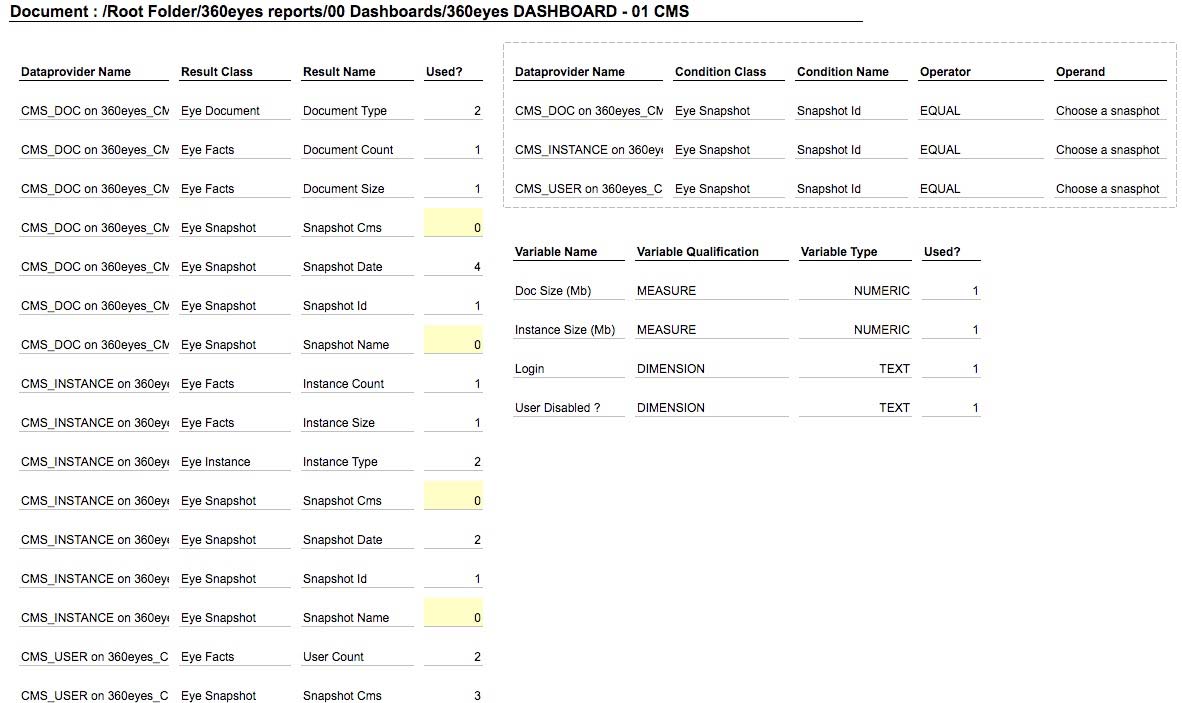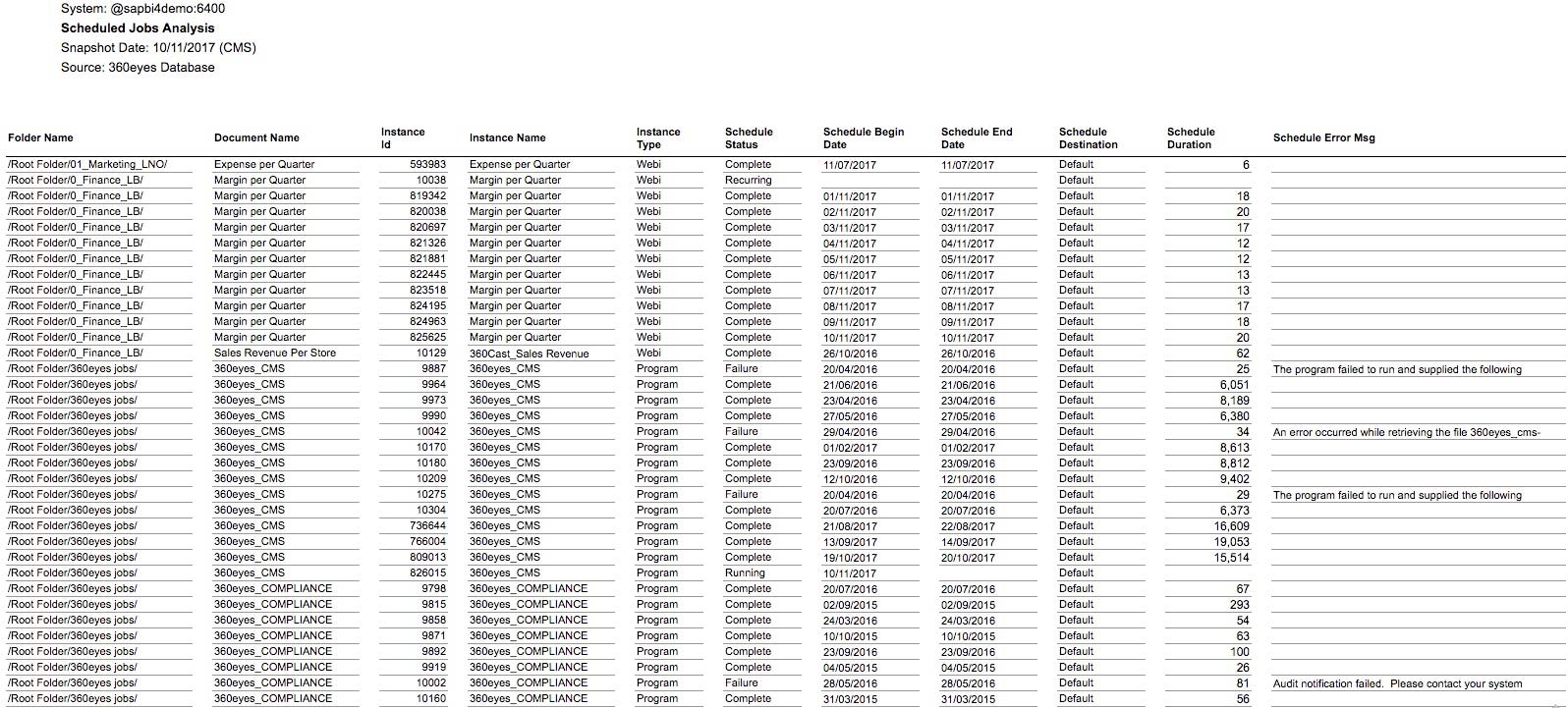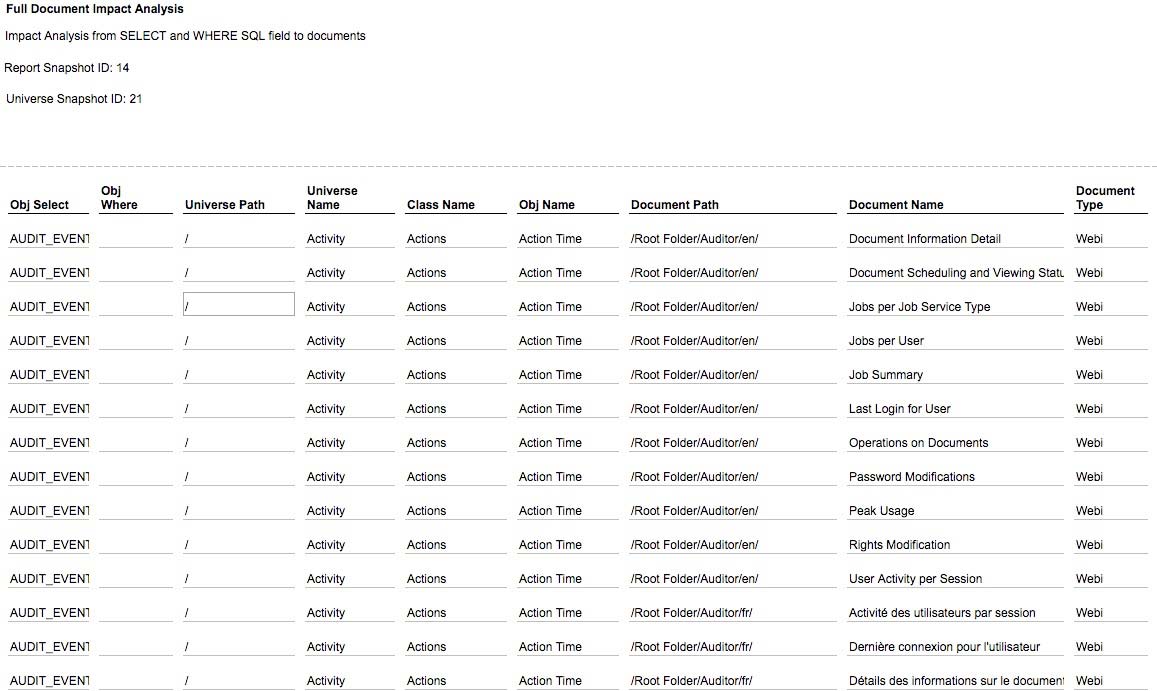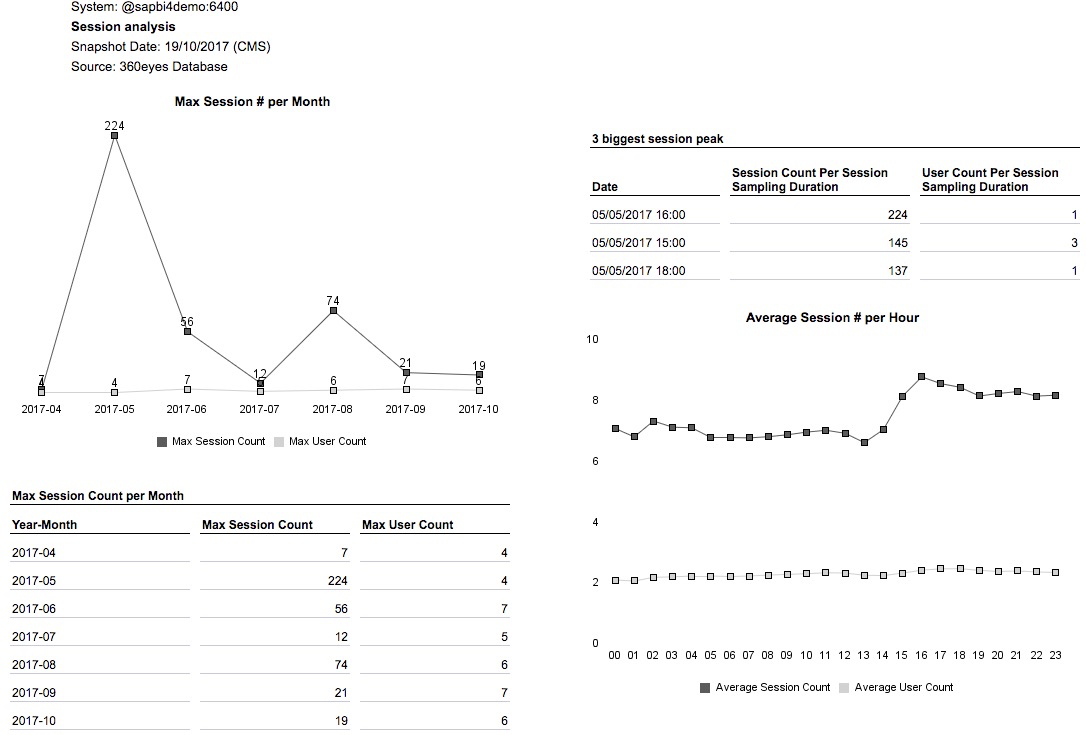 Additional tools also allow the day to day management and administration of BOE, such as:
An optimized Recycle bin that allows you to selectively restore all types of objects, from a single user to a document's deleted instance only.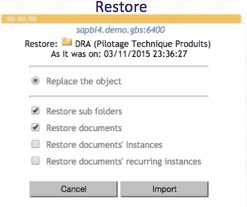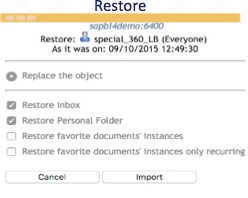 Disaster recovery enabled via a dymanic and incremental backup solution that saves each Business Objects object as a compressed biar file, making it easy to restore individually or in full.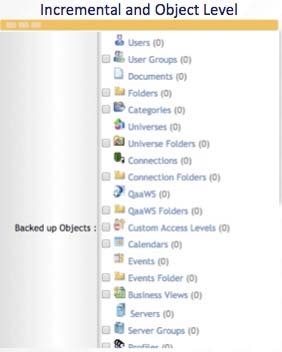 Automated regression testing whereby you can compare two documents side by side to detect report level differences in data, styles, formatting, execution times, etc.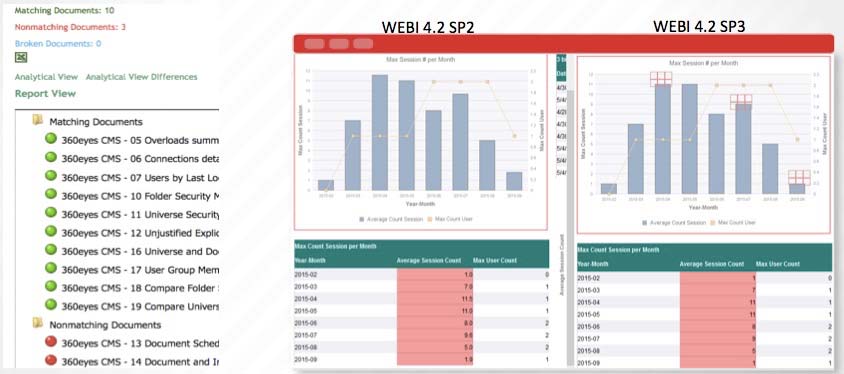 Wrap Up
The benefits of BI on BI can be summarized as follows:
Much better understanding of your BI environment
No longer a "nice to have" feature
Necessity in preparation for migration, or a major upgrade
Extremely helpful during license purchase/change period (session based)
Critical in identifying bottlenecks and other performance issues
Useful to back up any BI investment requests