8 Common Pitfalls To Avoid
When Upgrading Your
SAP BusinessObjects
Platform to BI 4.3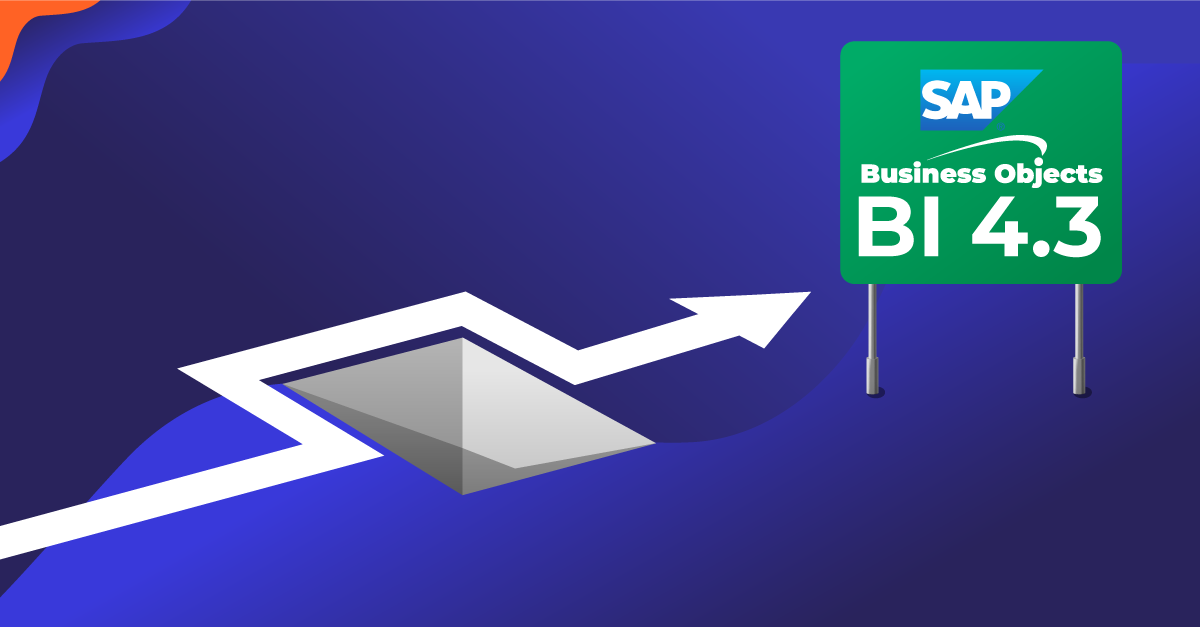 Upgrading your SAP BusinessObjects could be one of the most exciting projects to work on, bringing new features and improvements to your users. Unfortunately though, many fall into the common pitfalls when they initiate a Business Objects upgrade, ultimately wasting time and money. Here are the 8 biggest mistakes to avoid!
Common Pitfalls To Avoid For Your SAP BO 4.3 Upgrade
Rather than tell you the best practices of carrying out a Business Objects upgrade, we're going to tell you what to avoid doing so you mitigate any risks and ensure your upgrade goes as smoothly as possible.  
1. Ignoring The Documentation 
With all the Business Objects upgrades I've done over the years, I've heard this one a lot: "I've been working on SAP BusinessObjects for years, I know everything"…but no matter your experience there are always new functionalities or tools that are no longer supported when upgrading to a newer version. To help you with this, don't overlook the release notes and the PAM. If you don't read up on the version you're upgrading to then you won't be able to properly plan what needs to be done…which moves me onto my next mistake to avoid. 
2. Zero Planning
Bigger companies tend to have bigger projects with different roles and responsibilities and so if you don't plan and put pre-requisites in the right order, delays will occur in your upgrade project. If you haven't made it clear to people what they need to do, your upgrade project will end up taking a lot longer than you think. Allocating time for the upgrade preparation is key to making it a success. 
Bonus: Within your plan, make sure you put time aside for testing and repairs! 
3. Not Communicating The Project From Day 1
Sending an email on a Friday night to say that on Monday morning users will be on a new version of SAP BusinessObjects is by far the least helpful thing you can do. Users need to be informed from day one of the project and understand what role they have to play in the upgrade project, plus know what to expect on the big day. Poor user adoption and satisfaction will only increase if you forget something like this. 
4. Forgetting To Put In Place A Backup Plan
You finish the upgrade then realize a document or report is missing and….uh-oh, there was no rollback process in place so you can't get back what is missing. Having a backup in place is vital to mitigate risk like this and it makes it an easy way to restore content. It's especially important in the case of an in-place upgrade because without one, there is no going back. 
5. Having No Promotion Strategy In Place
There is no plan to handle the content created after the initial promotion. After promoting content from the source to the destination environment, users will continue to work in the current environment because there is typically a delay before the new environment is live. A strategy is needed to ensure that all objects and instances created and modified during that period are synchronized with the new environment.
6. Carrying Out Manual Regression Testing 
Not comparing your environment before and after an upgrade is one of the ultimate sins — how will you know if everything is working as it should be? For example, security or universes between the two environments. When you upgrade you always need to check for any regressions within your reports to make sure everything is performing as it should be and displaying the correct data. Doing this manually not only takes time but it is extremely error-prone, and not at all efficient when you have a large platform. 
7. Not Documenting Security Views
If you haven't documented your security model, you will have no clear idea of what access rights are in place. Certain content could be accessible to users that a) shouldn't have the right to access or b) that aren't concerned by the content. If users have access to content they shouldn't normally have access to, there's a risk it could be leveraged for unplanned purposes.
8. Working On One Environment
Simply working in just your production environment is a risky business especially if you want to carry out testing after an upgrade to check if everything migrated as it should do. Not having multiple environments, for example, one for development and another one for testing means you won't be able to rollback in case of any problems. 
Turn The Negatives Into Positives
However, 360Suite can turn some of this negativity into positivity! We don't want you making these mistakes when upgrading — our goal is for you to be reassured that your SAP BO 4.3 upgrade will be smooth and successful. So how can we help?
360Suite can backup your entire environment
We can backup all objects in your environment allowing you to rollback or restore to a previous version thanks to 360Plus. This is very beneficial if you're doing a clean-up or an in-place upgrade. 
360Suite provides Full and Delta promotion options
The Full promotion feature can migrate all your content all at once without having to create multiple promotion jobs. Then going forward, you can use our Delta promotion feature to promote new and updated content to keep the environments in sync. 
360Suite carries out a full comparison of your environments
360Eyes will show you all the differences between your environments plus Universe objects that have been added, modified, or deleted. We can also compare WebIs and security settings between environments. 
360Suite can automate your regression testing
We can automate regression testing to help you find any issues with reports before moving to production, as well as a side-by-side comparison to identify any differences between reports. Our solution compares the data, style, structure, and response time to determine if the upgrade changed document results or performance for WebIs, Crystal Reports, and Analysis for Office. This can serve as proof of success to reassure business users. 
360Suite makes sure your platform's security is documented
360View allows you to fully document all security and access rights on your SAP BusinessObjects platform so you understand exactly who has access to what. 
Let's Not Make The Same Mistake Twice 
An SAP BusinessObjects upgrade can come with its challenges and organizations work hard to make sure the new environment is still working just as well as the previous one, but sometimes mistakes can happen. If you're planning an SAP BO 4.3 upgrade then 360Suite has got you covered. We have an upgrade package especially for you to make sure you avoid these all too common mistakes!