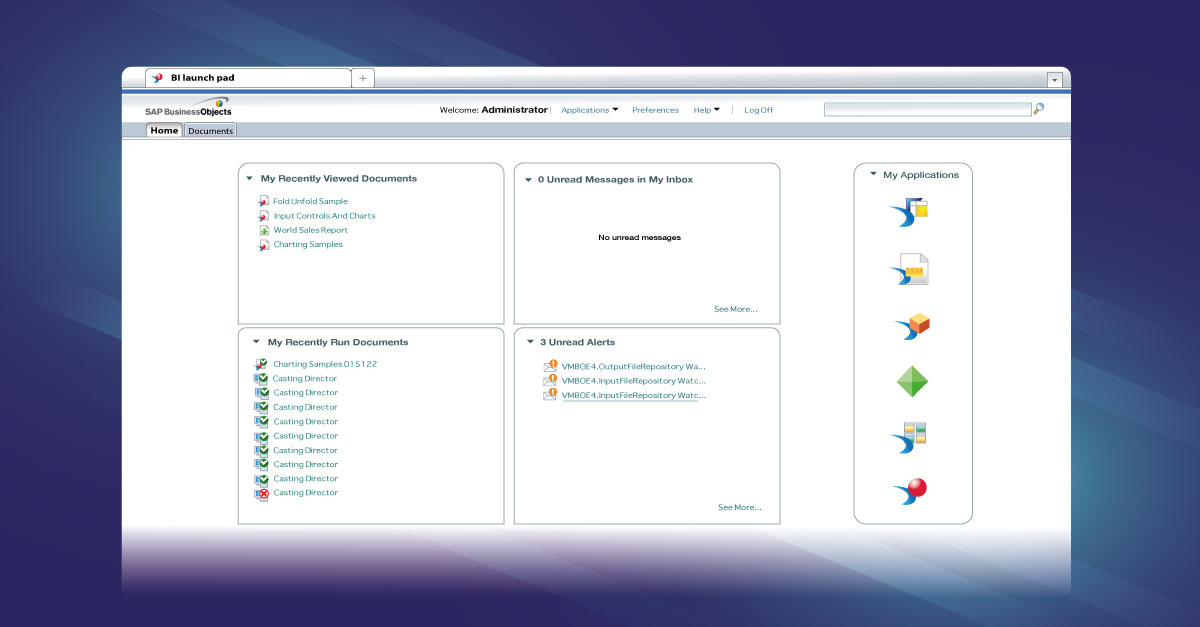 BI Launchpad in a previous version
UKI-what?
UKISUG — the UK and Ireland SAP User Group — is an independent, not-for-profit organisation that facilitates networking, knowledge exchange, and best practices among its members. It also provides an avenue for two-way communication between SAP and users. The annual UKISUG Connect conference was held at the International Convention Center in Birmingham from November 11-13, 2018.
Sacha Tassart and I represented the 360Suite team at UKISUG Connect 2018. In addition to sharing 360Suite solutions with conference attendees, I had the opportunity to participate in a test session for SAP.
Tried and Tested
The SAP usability test center at UKISUG Connect 2018 offered test sessions on five separate topics:
A Holistic UX Concept for SAP HANA Data Management Suite

Display Accounting Impact: New Ways to Analyze the G/L Impact of Selected Business Transactions

New BI Launchpad Based on SAP Fiori: BI Launchpad Enhancements and BI Workspace for SAP BusinessObjects BI Platform 4.3

SAP Fiori 3: A Next-Generation User Experience

Total Workforce Management: Designing for the Intelligent Enterprise
As the EMEA Director of the 360Suite Analytics Center of Excellence, I was well suited to test topic 3. The one-on-one session gave me an opportunity to test a prototype of the new BI Launchpad for SAP BusinessObjects BI Platform 4.3.
Launching Into the Future
BI Launchpad is the central repository for managing, viewing, and sharing BI documents. With the newly redesigned BI Launchpad, SAP claims to have "identified key user challenges" and "completely reimagined the existing BI launchpad to give a delightful and intuitive experience to business users."
The test session description promised me the chance to "test the new interaction patterns of accessing BI reports, and the new BI workspace in the new BI Launchpad." In the words of SAP, "A comprehensive end-to-end walk-through will allow you to explore the launchpad, set your preferences, view and create a BI workspace, choose relevant templates, navigate through the modules, play with visualizations, and get the feel of a simplified BI workspace."
Mum's the Word
I signed a non-disclosure agreement, so I'm not at liberty to divulge much information. But I had a great experience under the guidance of Rajashekar Ashok, a Product Expert at SAP Labs in India. Rajashekar gave me a script to follow to ensure that I tested various scenarios. I was testing an early prototype of the BI launchpad, so some buttons didn't work. But that didn't take away from my overall impression that the new BI Launchpad will be a great improvement over what is available today, including the Fiori BI Launchpad interface that was released in SAP BI 4.2.
Sharing Success
I was heartened to learn that SAP will incorporate feedback from testers into the ongoing process of developing the new BI Launchpad. To thank me for being a tester, SAP gave me a ribbon for my badge and a small gift of SAP branded merchandise. But no thanks was needed. 360Suite is a certified SAP Partner, so I was happy to play my part in ensuring the ongoing success of SAP Business Objects in general and the new BI Launchpad in particular.
For more information about the upcoming release of SAP BI 4.3 and 360Suite solutions to enhance Business Objects, follow us on social media or sign up to receive our monthly newsletter.