Discover SAP BusinessObjects
BI 4.3 SP03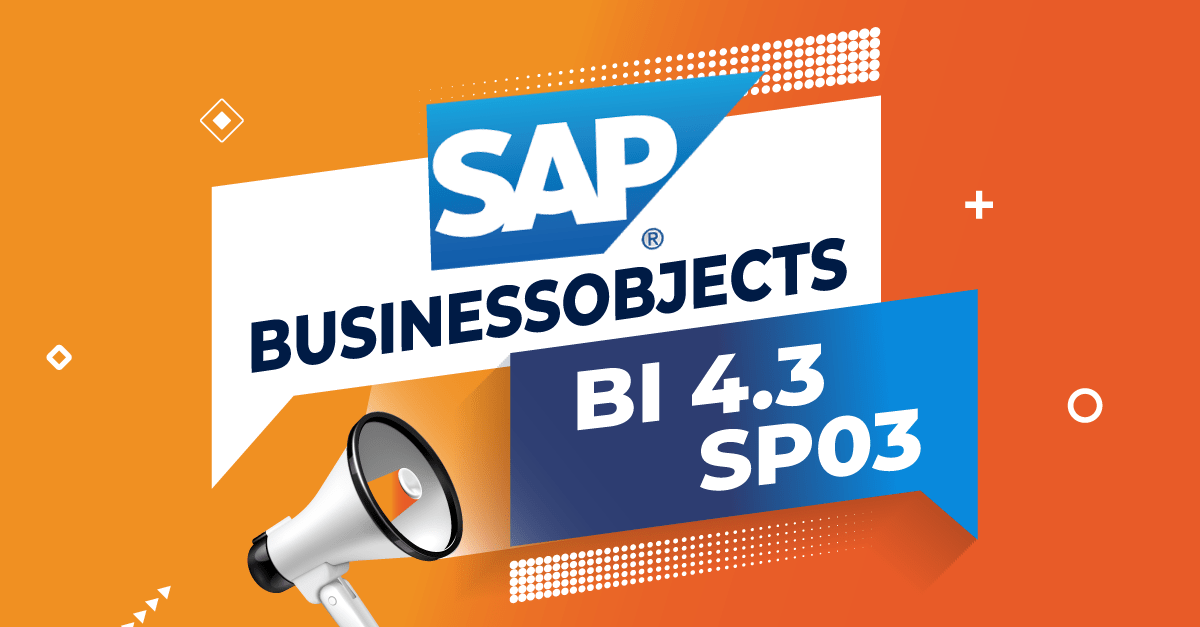 SAP BusinessObjects BI 4.3 SP03 and Beyond
This is it. SAP BusinessObjects BI 4.3 SP03 is here. During one of our recent LinkedIn Lives, we had the wonderful opportunity to give you a sneak and insightful preview of the expected features in this third Service Pack, and it's set to be a great one.
Just before we dig deeper into BI 4.3 SP03, I also would like to highlight a very exciting announcement made by SAP recently: SAP BusinessObjects code name BI 2025. After listening to their customers, SAP has decided to change its previous product strategy and to  deliver a new version of the SAP BusinessObjects BI suite which will be available both On-Premise and in a managed Cloud solution, that will only include the most-adopted tools and components by customers. Watch this space for more information.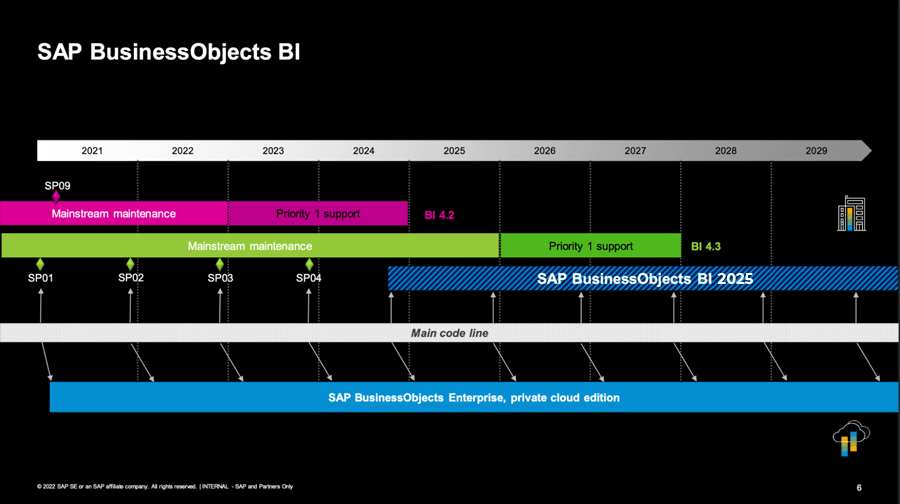 SAP BusinessObjects BI Roadmap 
Let's now discover what you can expect to see in BI 4.3 SP03.
What To Expect in SAP BusinessObjects BI 4.3 SP03
NB: The features below are a preview of what is expected to be released and so could be subject to changes.
SAP BusinessObjects BI 4.3 SP03 was released in December 2022. SAP has grouped the new features and functionalities into three areas of investment: 
1. Increase Productivity 
Data Preview Mode
This feature did in fact exist in BI 4.2 in the Webi Rich Client but was previously called the Data Manager that lets you see the result of a query one at a time. SAP has now taken this concept and brought it back to BI 4.3 SP03 and substantially enhanced it. You will be able to access and preview your queries, access all objects and see the different flows of queries, along with the capability to join a query flow. You will also be able to transform and enrich your data.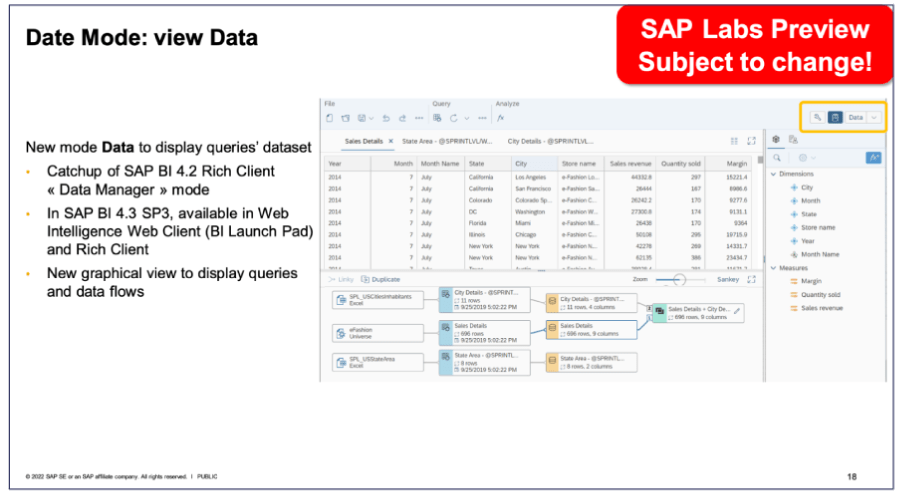 Data Preview Mode in SAP BusinessObjects BI 4.3 SP03
Combine Data Flows
In the Data Preview Mode, you'll be able to synchronize data through flows rather than objects. Two operations will be supported which will be "Left Join" and "Append" firstly, some others will be added in the future.
Only the objects that matter to your end-user will be displayed with you when you synchronize your data.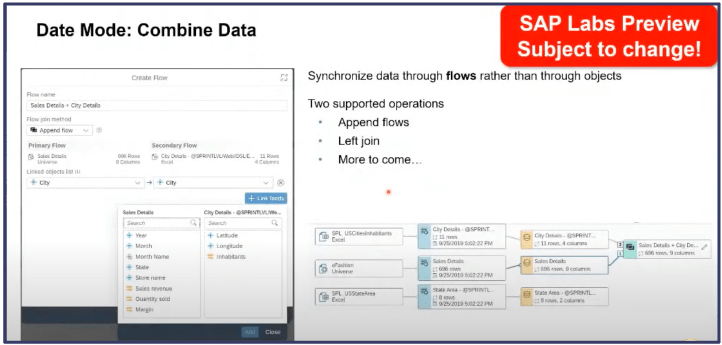 Combine Data in Data Preview Mode
Prepare And Transform Your Data 
Another feature that should also be part of the Data Preview mode is the ability to right-click on a column to apply some operators on the data and create new formulas which will explicitly appear as a new object in the list of available objects.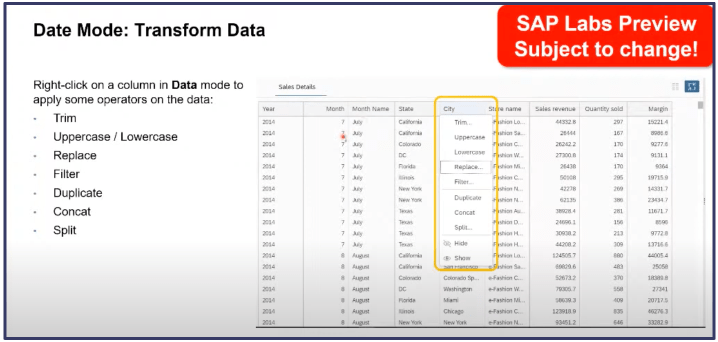 Transform data in Data Preview Mode
Get a full demo of the Data Preview Mode here: https://youtu.be/ZwaAbDDwBRM?t=1563 
2. Extend Possibility
Data Source Repository
Microsoft OneDrive is planned to be supported and will have the same capabilities as the other supported data sources, like Google Drive.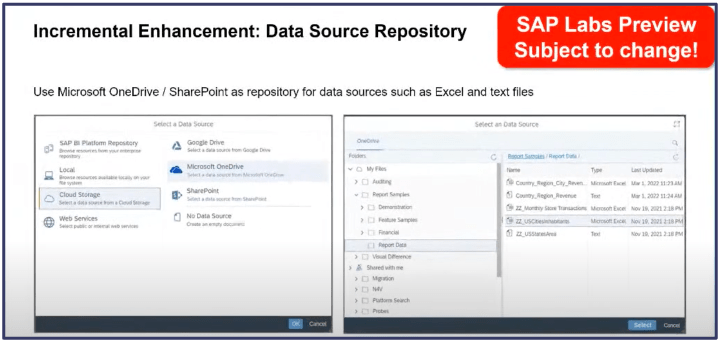 Microsoft OneDrive / SharePoint as a supported data source
Repository Destination
You will be able to export to Microsoft OneDrive / SharePoint via a scheduled task.
Prompts
A new Prompt Manager is in preparation. You should be able to sort different prompts from several queries and add instructions to users to describe the prompts, with support for the 'Global' BI variant (i.e; sharable).
3. Improve Usability
To further improve the usability of SAP BusinessObjects BI 4.3, lots of incremental enhancements are planned in SP03:
Hide column when empty

Support of text justification in format cell + conditional format

New Treillis charts 

New icons to enrich your Reporting

Formula language: some new formulas to capture the Input Control selection

Simplified workflows: improvement of the hyperlink dialog box usability by reducing the number of steps and windows

Inter-document link in Hyperlink

Support Pixel Reporting

Reading Mode Sorting/Ranking: sort and rank objects

"New document" and "Open document" actions from the toolbar

Document Recovery: new area to "recover auto-saved documents"

Categories: browse in Personal and Corporate categories

"Guides" to ease block positioning 

Multi-block selection via "lasso"

History of last used Data Sources

Reduce empty space in the WebI interface

New supported data sources for the Information Design Tool
Planning on upgrading?
As you can see, SAP is continuing to invest in SAP BusinessObjects with lots of new features and functionalities being added to every Service Pack. If you're planning on upgrading, we've introduced our 360Suite Freemium for all your automated testing needs during any upgrade. You can start using the freemium on your own by clicking here: 360Suite Freemium.
Q&A
As always during our events, we take time for a Q&A section and I wanted to highlight just a few important questions that came up during our LinkedIn Live:
1. Will there be a migration strategy/solution to help move from Lumira to SAC?
There is no tool to migrate your Lumira content to SAC. You'll need to recreate everything from scratch in the Application Designer tool in SAC.
2. Will we be able to upgrade from SAP BusinessObjects BI 4.3 to BI 2025?
Yes, there will be sufficient overlap between the two releases to let you plan your upgrade. BI 2025 will be based on the same technology (same backend, same services, etc) as BI 4.3.
3. What will happen to UNV in SAP BusinessObjects BI 4.3 SP03 and in BI 2025?
There is no change to UNV in BI 4.3 SP03 and will be supported throughout the BI 4.3 release until 2027. However, in BI 2025 UNV will not be supported and you will not be able to transfer your UNV file to this new release. You will need to convert your UNV to UNX first.
4. Will I be able to modify the freehand SQL queries in BI 4.3 SP03 or any future release?
It is already possible. Just make sure the connection you would like to access from the Webi web version has been created and securely exported (.cns connection) inside the SAP BusinessObjects repository.
5. Upgrading from BI 4.3 SP02 to SP03, is it just an upgrade or a full install?
It can be both; it can be an update such as an in-place or a side-by-side installation.
6. Is there a plan to get direct access to Sharepoint as a data source?
One Drive and Sharepoint use the same technology so what is accessible by one can be accessible by the other.