3 Steps For A Successful
SAP BusinessObjects
Private Cloud Edition Migration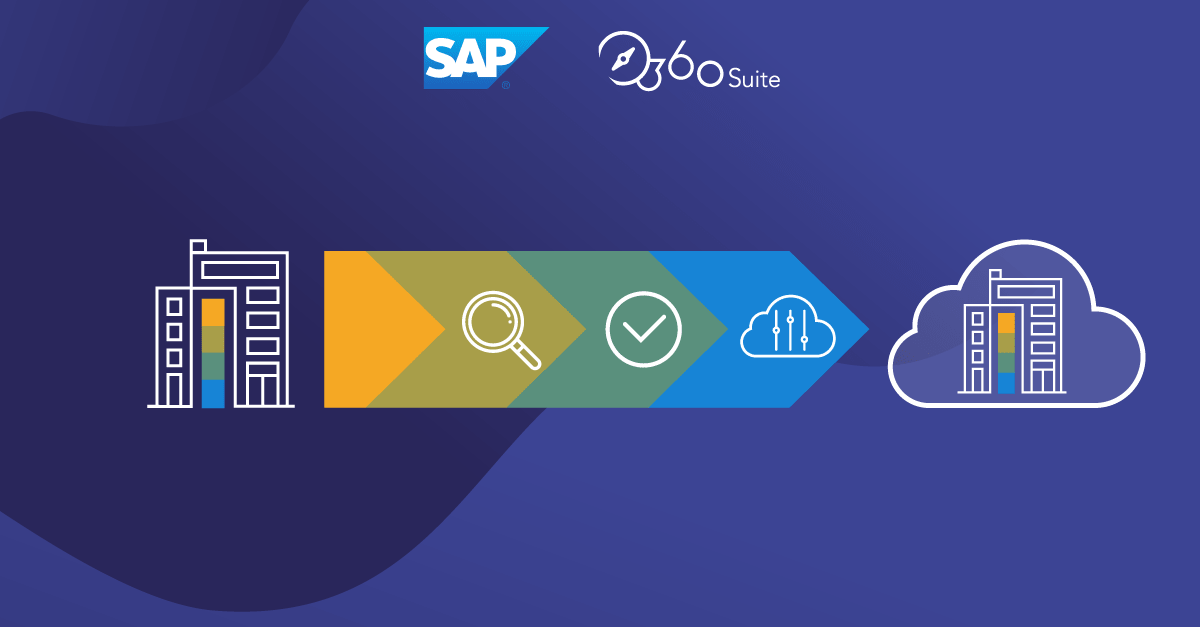 Migrating To SAP BusinessObjects Private Cloud With 360Suite 
With the recent release of SAP BusinessObjects Private Cloud Edition (SAP PCE), you may be asking yourself "what is the best way to migrate to this private Cloud?". The good news is that you've come to the right place. With 360Suite, you will be able to migrate your SAP BusinessObjects environment in the fastest, most efficient, and cost-effective way thanks to our 3-step methodology. It doesn't get much simpler than that. 
3 Steps Is All It Takes 
360Suite can help you not only migrate your SAP BusinessObjects deployment to SAP PCE but also help you reap the benefits of this move. In just three steps, you'll be in the Cloud in no time. 
Step 1: Pay Only For What You Use
"Don't pay for a size XL when you can go for size M". The first step is all about identifying what t-shirt size fits your SAP BusinessObjects deployment by analyzing what exists in your environment and carrying out some housekeeping. You should start with: 
Identify Abandoned Reports
More often than not, we get asked by customers if it's worth doing a clean-up before migrating to SAP PCE. It's recommended for a classic migration and it's even truer for a migration to the Cloud where you pay for each element you move over. With 360Suite, you will be able to get a list of reports ordered by the date of the last action to help BI Administrators determine which documents are used frequently, infrequently, or not at all. From this, any unused documents can be consolidated, archived, or deleted. For example, you could decide that anything that hasn't been used in the past two years will be removed.

Example of unused documents
Remove Duplicate Reports
Our solutions also allow you to identify any duplicate WebI and Deski reports (reports that have been copied with few or no modifications). This helps the Administrators clean up the SAP BusinessObjects environment by deleting or migrating duplicate reports.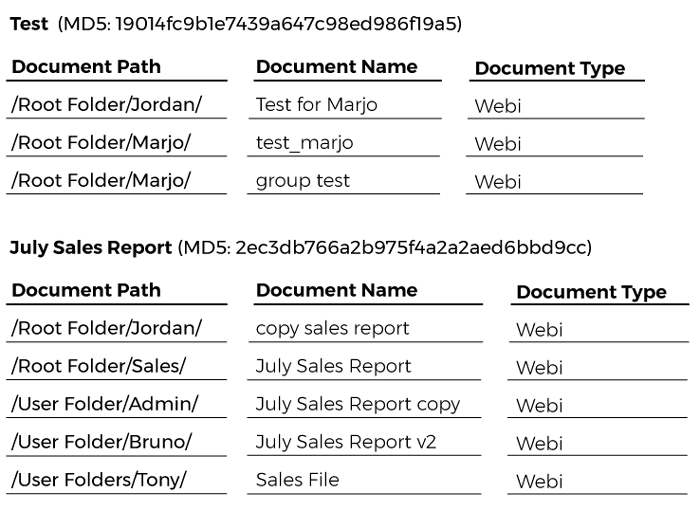 Example of duplicate WebI reports found in SAP BusinessObjects.
Expose Unused Licenses and Consolidate Schedules
It is also useful to expose any unused licenses, for example, the number of licenses that have never been connected or the number of users that haven't connected in the past six months. This will help you evaluate if there's a problem with user adoption and/or if licenses can be converted to reduce costs, and thus allow schedules to be consolidated (e.g. rather than schedule a document 20 times a day, schedule it once a day in the Cloud).
Step 2: Ensure Business As Usual In SAP PCE
Once the cleanup and/or archiving is done, it's now time to migrate your SAP BusinessObjects content. With 360Suite, you'll have the ability to move content from CMS to CMS with all the groups, users, folders, access levels, etc along with it. The benefit of using 360Suite is that everything will get moved in the correct order and you'll be able to see exactly what was moved and not moved over.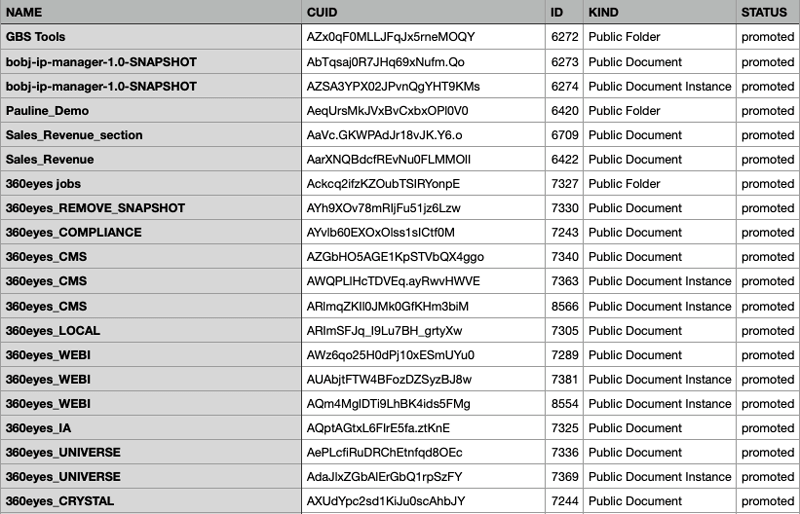 Example of the inventory of content that was successfully promoted.
At this stage, it's important to carry out regression testing to compare between the two CMS' (on-premise vs. SAP PCE environment). This comparison will highlight any differences in documents between versions. You can also do another comparison to ensure everything was promoted to highlight any differences in users, folders, groups and documents. These types of testing provide that important proof that everything got moved correctly to PCE.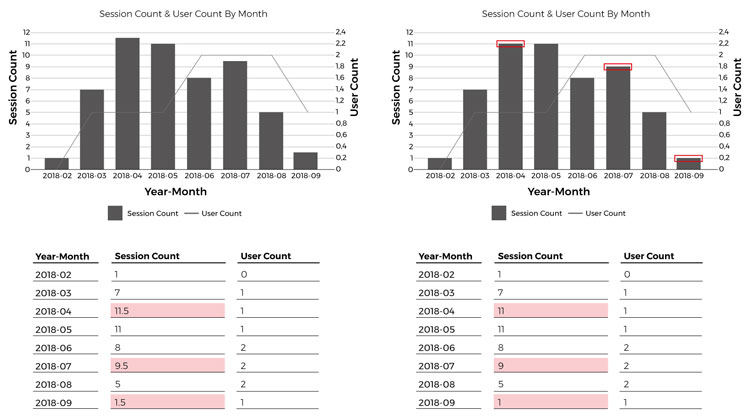 Example of a regression test showing the before and after. 
If you're wondering what reports you should be testing after this migration, it's important to carry out an impact analysis and this can be done by filtering through variables, objects, SQLs, etc. 
Step 3: Enjoy Full Benefits Of SAP PCE At Reduced Costs
360Suite doesn't stop there — once you've moved to SAP PCE, our solutions can help you efficiently manage your new Cloud environment so you can get the most out of it. Here's what we recommend with 360Suite: 
Put in place a backup

so that if anything goes wrong, you're able to rollback to a previous version and restore content. 

Carry out regular clean-ups and archiving to help you document platform adoption and stay within your t-shirt size to avoid growing and costing resources. Expert tip: 60% of content will have not been used in the past 13 months.  

Monitor license adoption to make sure licenses are being used and if not, consider converting them. 

Analyze your document usage and non-usage so that the IT team can charge the right departments. Implementing a chargeback/showback policy is a good way to monitor costs and budgets.
At the end of the day, using 360Suite for your Cloud environment will dramatically reduce operational and maintenance costs thanks to automation. It will also increase the quality of your reports with automated testing and allow you to leverage your metadata by carrying out impact analyzes, and, environment and document change comparisons.
Starting Steps For Our Customers
Since SAP PCE is a fairly new option for SAP BusinessObjects customers to leverage, we were lucky enough to hear from one of our customers about their beginning stages in migrating to the private Cloud. Our customer, who is in the federal sector, is migrating to SAP PCE for the primary reason of taking infrastructure management out of the equation and to be able to focus on customer components. They want to deploy a financial reporting and analytics solution in the AWS GovCloud by leveraging a variety of AWS services as well as the SAP technologies managed in SAP PCE. Within their size L PCE environment, they'll be using SAP BusinessObjects, SAP DataServices & Information Steward, SAP BPC & BW/4HANA, and SAP HANA. Migrating to PCE will allow them to focus more on the solution and testing rather than maintenance tasks. They hope to be fully deployed including testing and the rollout within 4-6 months. 
Ready For A SAP Private Cloud Edition Migration? 
SAP PCE is a great way to continue using your SAP BusinessObjects platform but with the added bonus of being able to reap the benefits of the Cloud. If you're ready to migrate your SAP BusinessObjects environment to SAP PCE, 360Suite's 3-step methodology will have you up and running in no time. We offer two different migration packages to help you in your project to PCE — if you would like more details, simply get in touch and one of our experts will help you out.