7 Reasons to migrate
to SAP BusinessObjects
Private Cloud Edition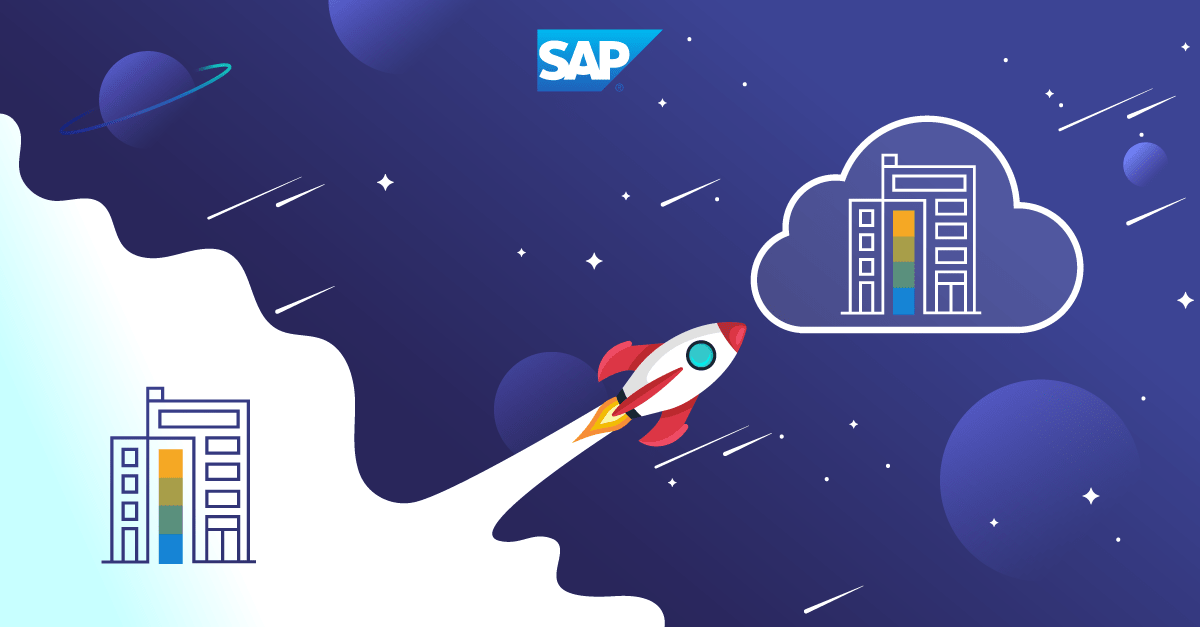 SAP BusinessObjects Private Cloud Edition Is Here 
SAP has introduced its new product offering, SAP BusinessObjects Private Cloud Edition (SAP PCE), to empower SAP BusinessObjects customers to continue deploying their current investment all while being able to reap the benefits of the Cloud. With this new product in the market, you may be curious to know why exactly SAP BusinessObjects customers should make the move, and this article will go through the 7 main reasons we think you should migrate to SAP PCE.  
Why Migrate To The SAP BusinessObjects Private Cloud Edition?
Some of you SAP BusinessObjects on-premise users might be itching to move to the Cloud, but at the same time afraid of the sheer amount of work and disruption it could cause. However, with SAP's new private Cloud offering it really doesn't have to cause nightmares. Here are 7 reasons why you should migrate SAP BusinessObjects to the SAP Private Cloud Edition: 
1. Say Goodbye To Maintenance
It's time to say goodbye to technical maintenance, and part of the costs that come with it! Moving to SAP PCE is just like moving to any Cloud provider, they take care of everything…well almost. With this new product, SAP provides and takes care of the system infrastructure, enterprise support, disaster recovery plan and proactive managed services. This leaves you more time to focus on more value-added projects.   
2. Pay For Only What You Need
SAP Private Cloud Edition is based on a simple subscription model where you pay for only what you have. The subscription is based on a t-shirt size of S, M, L, or XL depending on the number of NUL (Named User Licenses), CS (Concurrent Session), and server configuration you have. Plus you will have the ability to convert unused licenses towards SAC. 
3. Access To Full SAP BusinessObjects Capabilities
Once you've migrated to SAP PCE, you will find all the SAP BusinessObjects capabilities and components that you are used to having on on-premise, such as: 
Operational and interactive (Web Intelligence) Reporting

Powerful semantic layer supporting complex semantic use cases and 100's of data sources

Dashboards and Analytic Applications with Lumira Designer

Multidimensional data analysis in Excel (Analysis for Office)

Pixel perfect, operational reporting (Crystal Reports Enterprise)

Large scale report scheduling and bursting (BI Platform) 
4. "Lift And Shift" Your Way To PCE
Migrating your SAP BusinessObjects to SAP PCE can be a simple "lift and shift" process. You take everything that exists in your on-premise environment and simply put it in the Cloud, making it the easiest way to start a move to the Cloud. Bear in mind that although a "lift and shift" process makes it a lot simpler, migrating to SAP PCE could be the perfect opportunity to do some housekeeping by cleaning up your SAP BusinessObjects environment. For example, removing or archiving unused reports or instances. 
5. Upgrade? What Upgrade?
Upgrading SAP BusinessObjects on-premise is always an exciting yet challenging project, but you'll no longer have to worry about upgrades when deploying your environment on SAP PCE. In your subscription model, one major upgrade per year to the latest PCE certified and supported service pack is included as well as patching. 
6. Add Any Necessary Extras
Like all subscription models, you have the standard options but with the added possibility of additional services to your deployment. With SAP PCE, it works in the same way. 
Firstly, in terms of your subscription pricing: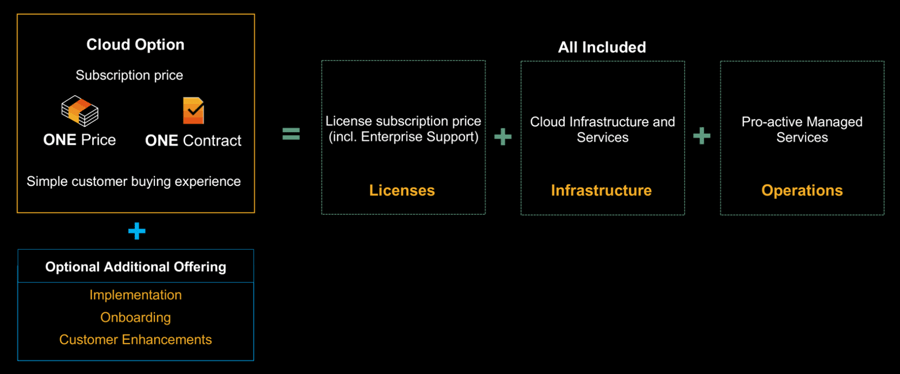 Secondly, what is offered in the standard Operations Services and what can be added on: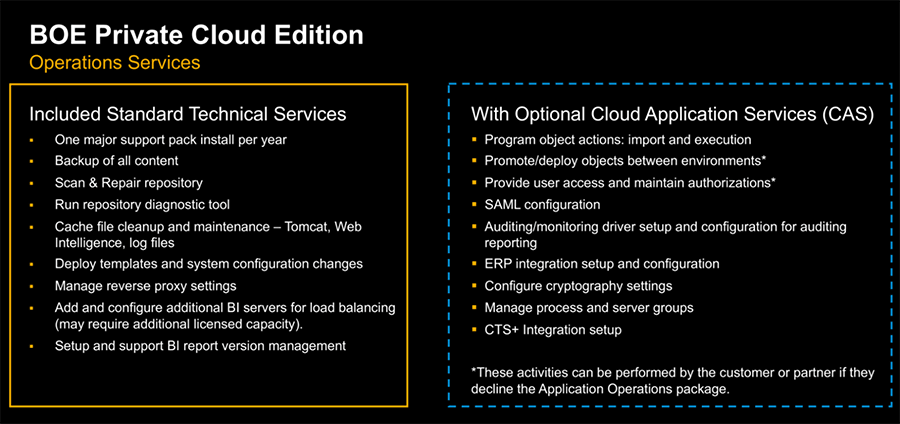 7. Access To Major Cloud Platforms
SAP PCE is the only multi-cloud enterprise platform in the market today with access to some of the major Cloud hyperscalers such as:
Microsoft Azure

Google Cloud Platform

Amazon Web Services
Kick-Start Your Migration Journey Today
And that's a wrap — 7 reasons to migrate your SAP BusinessObjects to SAP PCE. Get the best of both worlds with the ability to continue deploying SAP BusinessObjects as usual all while reaping the benefits of the Cloud. You may now be wondering "okay, what would the migration path look like?". Read the last part of this series to learn more about it and get our expert advice.