Everything You Need To Know
About SAP BusinessObjects
Private Cloud Edition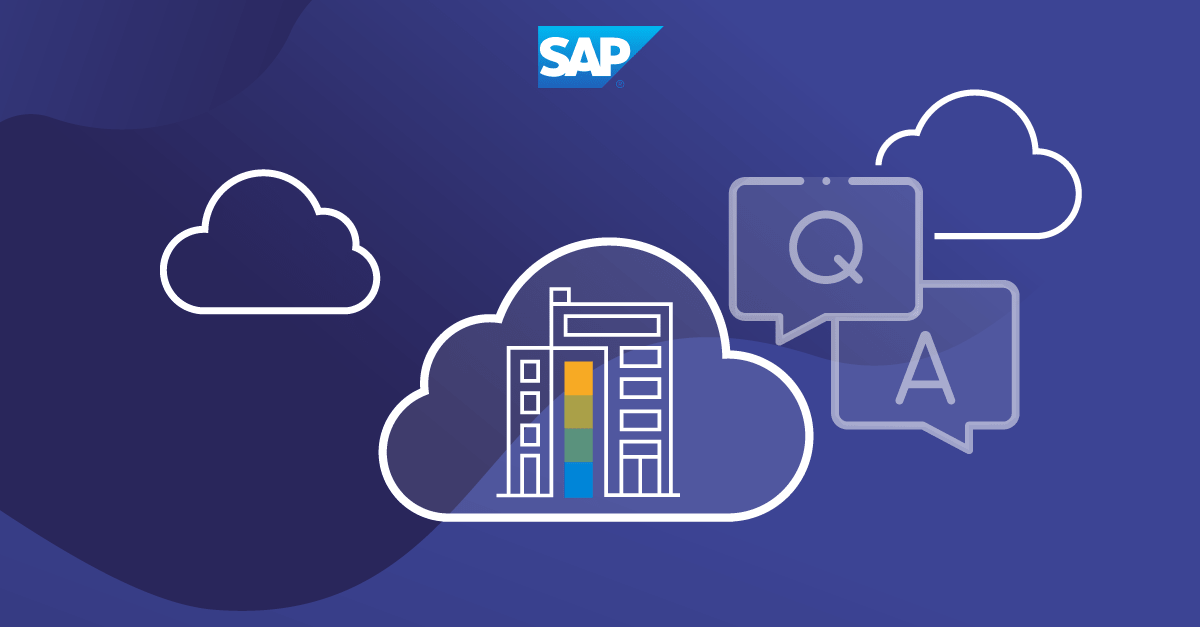 SAP BusinessObjects Private Cloud Edition Has Arrived
2021 saw a new offering to SAP's product portfolio with the release of SAP BusinessObjects Private Cloud Edition (PCE). A new product to deploy SAP BusinessObjects on the Cloud with the aim of empowering customers to get the most from their current investment while reaping the benefits of a flexible and non-disruptive first step to the Cloud. Come 2027, any updates to SAP BusinessObjects will be done for those on the Cloud, and not for those on-premise. This may seem a long way away, but in order to prepare your organization for an eventual migration to PCE, I will explain everything you need to know about this new offering. 
What's In It For You?  
Just like you wouldn't buy a house without several visits and checks, your organization wouldn't invest in a new product without knowing everything about it. Let's look at the main benefits of deploying your SAP BusinessObjects platform on SAP BusinessObjects Private Cloud Edition.  
To start with, it's the only multi-cloud enterprise platform in the market with an open choice of Cloud service providers such as Microsoft Azure, Google Cloud, and AWS. The offering is based on a subscription model delivered with pre-defined t-shirt sizes that correlate to the number of users (named and concurrent) on your deployment. Regarding your current license agreement, there is the possibility to cancel your existing on-premise agreement for a simple Cloud subscription.

SAP BusinessObjects Private Cloud Edition (user) t-shirt size guide.

SAP BusinessObjects Private Cloud Edition (CS) t-shirt size guide.
SAP Private Cloud Edition provides a dedicated system landscape that includes yearly upgrades and patching, support for mission-critical requirements, and works as any other Cloud provider, covering all maintenance work and infrastructure, giving you more freedom to work on other projects to increase your business value. Thanks to this, it allows you to gain immediate TCO benefits and a fast time to value. 
Migrating to PCE is a great opportunity for customers to move to the Cloud in a simple and efficient way thanks to a "lift and shift" of their existing SAP BusinessObjects environment. Equally, it could also push you to analyze used and unused content so that you are not migrating content over that will take up valuable space on your SAP BusinessObjects platform.
"It's a great way to continue to use SAP BusinessObjects in a much more cost-efficient manner and probably in a more performant and efficient manner."
Patrick Sims, Sr. Director, Global Center of Excellence for Analytics and BI at SAP.
How Does SAP Private Cloud Edition Work?
I hope you'd agree that SAP PCE looks promising so far but what's included in the offering and how will it fit in with your SAP BusinessObjects deployment? Let me explain. 
Migrating to SAP PCE allows you to have the same full stack of SAP BusinessObjects components that you have on-premise but simply hosted on the Cloud (all the different BI client tools were delivered in SAP BI 4.3 SP01 release and Lumira Designer). Note that all application servers will be run on Linux with some platform components requiring Windows to run. Crystal Classics* will also be phased out on Linux at the end of the year with the BI 4.3 SP02 release, but there will be an option to support Crystal Classics on this managed Cloud platform. 
In terms of configurations, as I said above, SAP PCE will be delivered in t-shirts sizes ranging from S to XL. Each productive t-shirt size includes 2-tier landscapes (Dev/QA) with the option to add non-productive tiers and disaster recovery if needed. SAP will equally take care of all the infrastructure, enterprise support, and application management services as well as any customer security requirements, allowing you to focus on day-to-day deployment activities.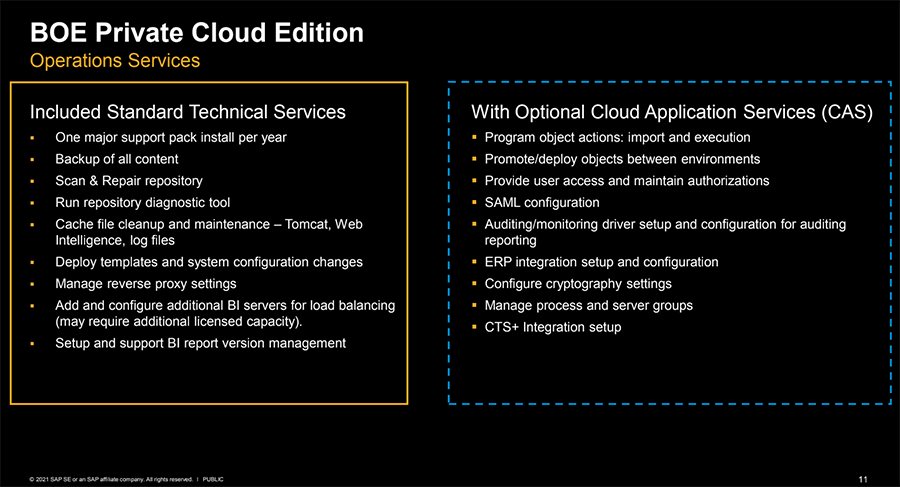 What's included in the Operations Services in SAP PCE.
"PCE addresses the problem of maintenance and the need for a lot of resources to use SAP BOBJ by putting all the infrastructure management and upgrades on SAP. It gives users more time to work on other projects." Patrick NeSmith, Director, Data & Analytics at Protiviti.
*Classic Crystal refers to SAP Crystal Reports (standalone desktop and server) as opposed to Crystal Reports for Enterprise, which is part of the SAP BusinessObjects BI Platform.
Where To Go From Here 
There you have it, SAP Private Cloud Edition in a nutshell. A new multi-Cloud solution to deploy your SAP BusinessObjects allowing you to save time on both the maintenance and upgrading of an on-premise deployment, giving your organization the time to work on more value-added projects to meet business needs. SAP seems to have found the best compromise and offer a path to innovation, and extended maintenance for SAP BusinessObjects all while benefiting from the benefits of the Cloud.
Still would like to know more on why you should make the move? Read the next part of our series on the 7 reasons to migrate to SAP PCE.
You Asked, SAP Answered
During our LinkedIn Live on everything you need to know on SAP Private Cloud Edition, we got asked lots of interesting questions and we thought it was a great opportunity to do a wrap-up of them all here for you: 
Moving To SAP PCE
Is there an SAP PCE POC available? 
SAP advises looking into the PCE Cloud Appliance Library where you will find some BI 4.3 instances that run on hyperscalers to demonstrate how it runs in a Cloud environment. Essentially it's just the same BI 4.3 platform as on-premise but hosted on the Cloud so there is nothing new to show. 
Do existing customers need to go to SAP BI 4.3 to be able to migrate to SAP PCE? 
No, SAP PCE exists for those on BI 4.3 SP01 but customers can migrate directly from BI 4.2 SP08, 09, or previous versions directly to PCE. 
How much help is included from SAP when moving from Windows? For example, moving/converting the DSN's ODBC / JDBC connections to SAP PCE.
SAP does not provide support when moving to Windows. 
Does SAP PCE support AD SSO for Linux?
Yes, SAP PCE does support a plugin for SSO but it would need to go through LDAP login. 
Should users convert their UNV to UNX before going to SAP PCE? 
No, it's not necessary. It's still important to look at what's really being used in the platform and from there, do a clean-up. In reality, it doesn't matter one way or another but platform housekeeping is never a bad thing. 
Are client tools installed on client machines or are you providing VMs as well? 
SAP doesn't provide VMs by default but there is the option to do this. 
Does SAP PCE include moving the IFRS/OFRS from on-premise to PCE?
SAP would not do the actual migration of IFRS/OFRS from on-premise to SAP PCE.
Using SAP PCE
How is access to the client tools (IDT, UDT, Webi rich client) accomplished with SAP PCE? 
Client tools access on SAP Private Cloud Edition is similar to how it works on-premises today. They will simply connect to the server from the user's desktop. Just make sure you set your network access rules to support that connectivity as additional ports. 
How often will SAP PCE implement patches?
This will depend on when a customer installs patches as they will be installed on their time. 
Is there a 100% functional match in Crystal Reports For Enterprise yet in PCE?
Yes, although as SAP PCE is on Linux, customers will need to have Windows server for their Crystal Reports. 
Licensing
When people go to SAP PCE and subscription, will SAP offer the ability to consolidate multiple contracts/deployments? 
Yes, that's the end-game goal — it will allow customers to simplify existing contracts by looking at platform usage to ensure the right t-shirt size and subscription model. 
The SAP PCE t-shirt size is based on the number of users but is that named users or concurrent sessions? 
It is based on named users. If you have concurrent sessions, you will need to convert these to reach the total number of named users. To do this conversion, 1 concurrent session is equal to 3 named users. 
Will SAP PCE require additional licensing?
No, SAP PCE will not require additional licensing.
Compliance
As a Hospital deployment, we have to comply with HIPAA. What is the security around SAP PCE and protecting data?
The security is better because it is a private Cloud so your data isn't shared with anyone else's. The SAP Trust Center gives you all the details on security and the steps that SAP has taken for all Cloud products. 
What level of AUDIT access do "Tenant admins" get in SAP PCE to audit data for compliance purposes? 
The level of AUDIT will be the same as on on-premise. 
How does SAP PCE stay current with my organization's compliance requirements, java version, security patches, etc? 
SAP PCE follows the SAP security framework and ensures it is kept updated as much as possible. 
In SAP PCE, how would I recover instances after they have been moved to a network share? I have a government customer that is required to have access to up to 7 years of history. 
360Suite solutions will allow you to recover instances. They'll be accessible from outside the CMS, then if you want to add them back, you would have to import them back in the launchpad (be in pdf or WebI format).
Data Source / Connectivity
Can you connect between SAP PCE deployment and a separate AWS data warehouse or other data sources? 
Yes, Cloud users can do that by opening the ports between both instances. 
Does SAP PCE support Snowflake? 
Yes, SAP PCE does support Snowflake. 
Are SAC connectors also part of the SAP PCE operational services? 
Yes, it is part of the cloud offerings. It is possible to have a hybrid landscape with BI dashboards stories running in SAC, traditional reporting running on SAP BusinessObjects, and leveraging universes on SAC. 
How is SAP PCE positioned with SAC? 
SAP BusinessObjects is still very strong from a scheduling and publication standpoint. SAC with its self-service, stories, and dashboards has its advantages too, but at the end of the day, SAP wants to help customers move SAP BusinessObjects workloads to the Cloud whether public or private. 
Are customers accessing databases in the Cloud or on-premise?
Customers can access databases both in the Cloud and on-premise. 
Will SAP PCE integrate with on-premise scheduling such as ControlM?
Yes, SAP PCE will integrate with on-premise scheduling such as ControlM.