Wiiisdom Bolsters AnalyticsOps Portfolio,
Introducing Wiiisdom Ops for Power BI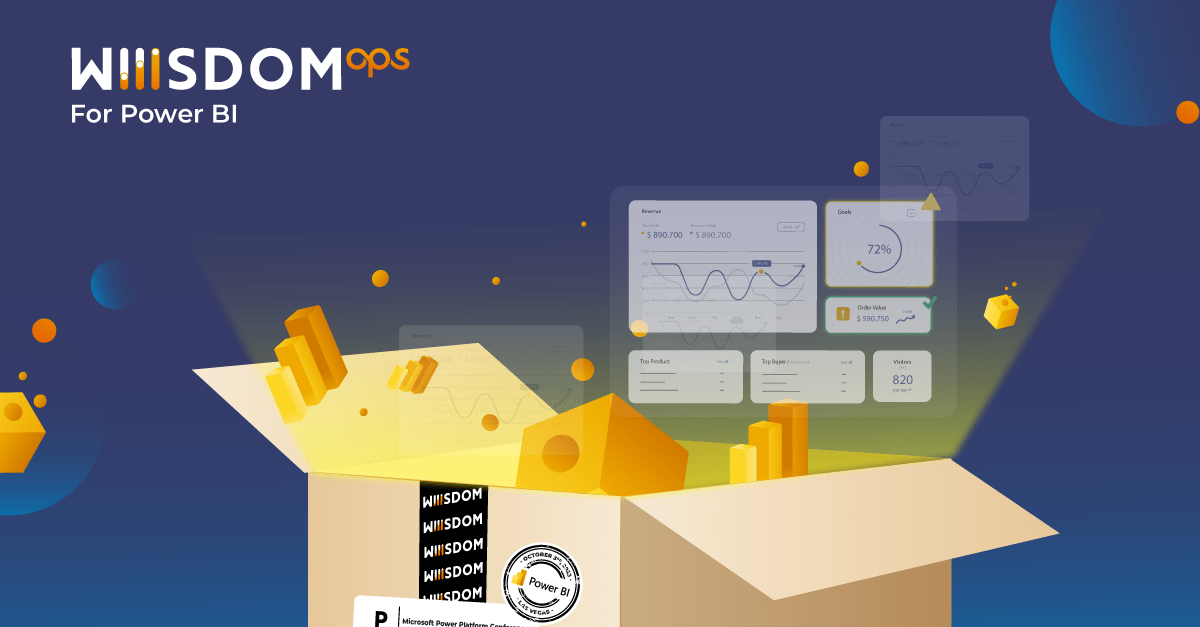 LAS VEGAS – October 3, 2023 – Wiiisdom, the pioneer in AnalyticsOps, today announced Wiiisdom Ops for Power BI, a new governance offering designed to deliver trusted data and analytics at scale. This SaaS-based solution, part of the AnalyticsOps portfolio from Wiiisdom, unlocks and automates new testing capabilities and integrated BI content management workflows for Microsoft Power BI.  
Data and analytics governance is a critical enabler of business success, yet many people are still spending the majority of their time finding and resolving errors. Ventana Research predicts that through 2025, governance issues will remain a significant concern for more than one-half of organizations, limiting the deployment and therefore the realized value of analytics investments. 
"Our research shows two-thirds of organizations consider it very important to improve their data governance and only half of are governing their analytic objects," said David Menninger, SVP & Research Director, Ventana Research. "Analytical operations solves this challenge by automating analytics governance, allowing all stakeholders within an organization to mitigate risks and make data-driven decisions. The AnalyticsOps portfolio of products from Wiiisdom, including the new solution, Wiiisdom Ops for Power BI, helps to ensure data is accurate, up-to-date, and consistent for trusted analyses."
Wiiisdom is on a mission to simplify and automate governance for analytics so decision-makers have quality, trusted data that they can use for decision-making. By streamlining testing, deploying, and monitoring as an integrated workflow across the entire organization, data leaders can provide timely insights that will drive value to their business, without sacrificing quality and trust.  
"With more than 15 years of experience solving the toughest business intelligence challenges, we have a unique understanding of the problems that today's data leaders face," said Sebastien Goiffon, Wiiisdom Founder and CEO. "The launch of Wiiisdom Ops for Power BI is another step in our mission to minimize risk and increase trust in an organization's data so business leaders across the globe can confidently make data-driven decisions."
Wiiisdom Ops for Power BI automates dataset and report testing and streamlines analytics governance workflows, so organizations can easily validate datasets and trust that reports are accurate. The new offering allows users to: 
Test and deploy content at scale

: improve productivity and increase confidence with cloud-native, automated testing for all Power BI content across an organization;

Catch errors to minimize risk

: build and run statistical validations, value checks, regression tests, and more to identify errors, and then document test results to comply with business and regulatory requirements; and

Build trust in data and analytics

: ensure content is accurate and reliable so organizations can maximize the value of Microsoft Power BI investment and drive stakeholder adoption across the enterprise. 
The introduction of Wiiisdom Ops for Power BI builds on the tremendous traction that Wiiisdom has achieved over the last 12 months. The company continues to attract top talent, adding several new go-to-market leaders from Tableau, including Michael Holcomb, VP, Customer Success and Jeremy Blaney, VP, Product Marketing, who deeply understand modern BI and customer pain points. Additionally, the company introduced a new partner program that brings together data and analytics consulting partners and world-class resellers to further scale the business. 
Wiiisdom Ops for Power BI, which was unveiled at the Microsoft Power Platform Conference in Las Vegas, is available now directly and on Microsoft AppSource and Microsoft Azure Marketplace. To learn more about Wiiisdom Ops for Power BI, please check out the blog post or visit: https://wiiisdom.com/wiiisdom-ops/power-bi/ 
About Wiiisdom
Wiiisdom is the pioneer in AnalyticsOps, building no-code, enterprise-grade solutions that simplify governance for analytics and business intelligence platforms like Tableau, Microsoft Power BI, and SAP BusinessObjects. The company offers automated BI testing capabilities and integrated workflows for content lifecycle management that make it easy to comply with governance policies at scale. For more than 15 years, Wiiisdom's solutions have helped organizations of every type, including Fortune 100 companies, build trust in data and analytics, ensuring leaders can make confident data-driven decisions.
PR Contact: media@wiiisdom.com