5 Steps To Upgrade
Your Tableau Server Serenely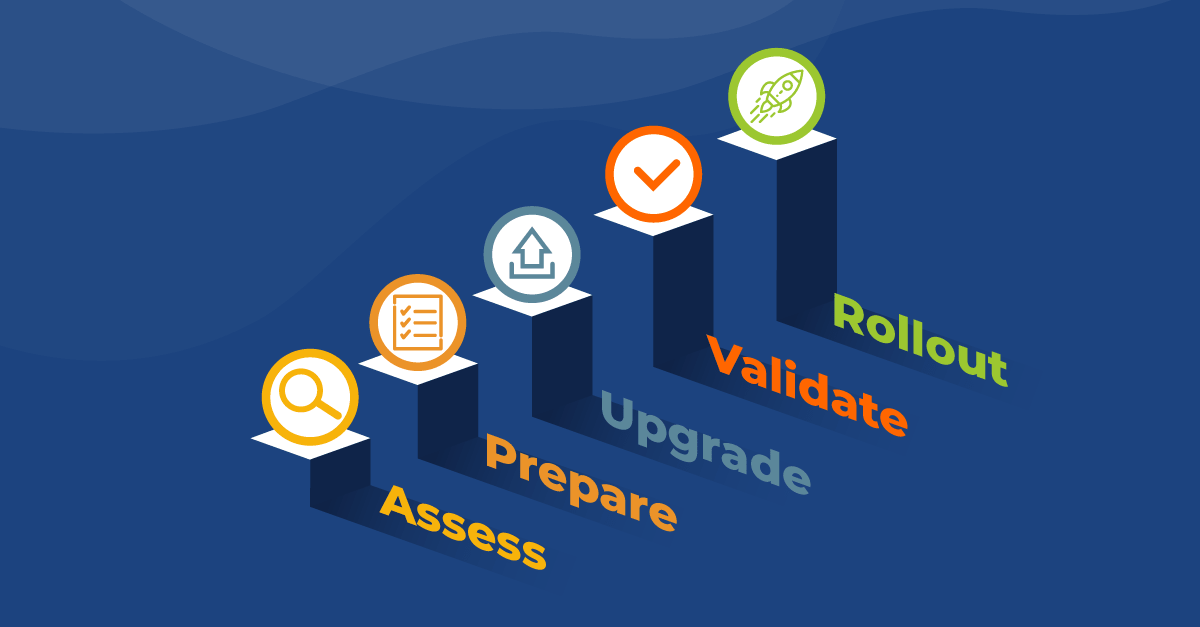 Upgrading your Tableau environment can give you access to many more exciting features and functionalities to allow you to dig even deeper into your data. However, upgrading can come with its challenges. In this article, I'll take you through the essential steps to take when upgrading, plus what you should be testing, to make sure the upgrade goes as smoothly as possible. 
Your Step-By-Step Tableau Upgrade Methodology
Planning an upgrade is one of the most important steps to take to avoid any unnecessary risks and understand exactly what needs to be done and when, and equally important, by who. Follow this methodology and you'll be up and running on the latest Tableau version in no time! 
1. Assess
Before even touching anything on your Tableau platform, you need to assess your current environment, including taking an inventory of everything on the platform. You need to map out what you want to use, which targeted version you want to go to, and who will be involved in the upgrade project. This information will also need to be included in the upgrade communication and education plan stating when the upgrade will happen, who will be involved, what their roles will involve, and any necessary training sessions. Here is also a good time to join the Tableau beta program because, like any new big release, some organizations prefer to wait for the first patch before upgrading. It might be worth seeing what features will be released later to help you decide when exactly to upgrade. 
2. Prepare
After the assessment stage, you can download the new version onto a separate test server, and put a backup in place on this test server. Don't take the risk of simply downloading the new version on your production server because nine times out of ten, there will always be issues to rectify. At this stage, I'd recommend asking your power users to test the new version out because they will be the best users to promote the new innovations available to other users (don't worry this won't change anything in your current environment).
Note that if you're carrying out an upgrade on a separate server by taking a copy of your current production environment and putting it on your test server, I recommend you carry out a cross-environment test.
3. Upgrade
This is the scary part — it's not really but once you've tested the version out on your test server and your power users are happy with everything, you can upgrade to the newer version on your production server. There are two ways to do this: 
You communicate to all your users that the server will be down at a certain time to carry out the upgrade, or 

If you're a large organization that can't afford server downtime then you can do a redirection towards the production server. 
4. Validate
This step is the most important because you need to confirm that everything that should be on your Tableau environment is on your Tableau environment, for example, projects, reports, permissions, refresh schedules, etc. It's not just about checking everything is there but validating it to ensure nothing was lost during the upgrade — a common worry among Tableau users. 
Fortunately, this worry can disappear thanks to automated Tableau testing. Our solution, Wiiisdom Ops, reduces the upgrade time and effort because the whole process can be automated. With Wiiisdom Ops, you can carry out:
Functional testing

: simulate user journeys as well as clicks and interactions.

Regression testing: compare your Tableau dashboards over time and across environments.

Performance testing: drive load to your Tableau dashboard and assess response time and reliability. 
5. Rollout
Once step 4 has been completed, now is the time to launch the production rollout. This includes a communication campaign to all users explaining the new upgrade and what users can now expect to see in the new version. It's also worthwhile carrying out a post-production validation to double-check that the upgrade went successfully and no content was lost. Use the functional testing solution of Wiiisdom Ops to ensure all users' dashboards are working properly.
Ready To Upgrade? 
A Tableau upgrade doesn't have to cause any sleepless nights — by following these 5 steps along with automated testing, you'll never have to worry about an upgrade again. Upgrading to the latest version will give you access to the latest features and functionalities to allow your users to get even better data insights. 
Lots of organizations ask the question of "how long will an upgrade project take?", and it completely depends. On average it could take between 2-4 weeks but it all depends on the size and the complexity of your environment. 
So, if you're planning an upgrade soon, put in place your testing plan today with Wiiisdom Ops.