The Importance of BI Report Testing
for Business Leaders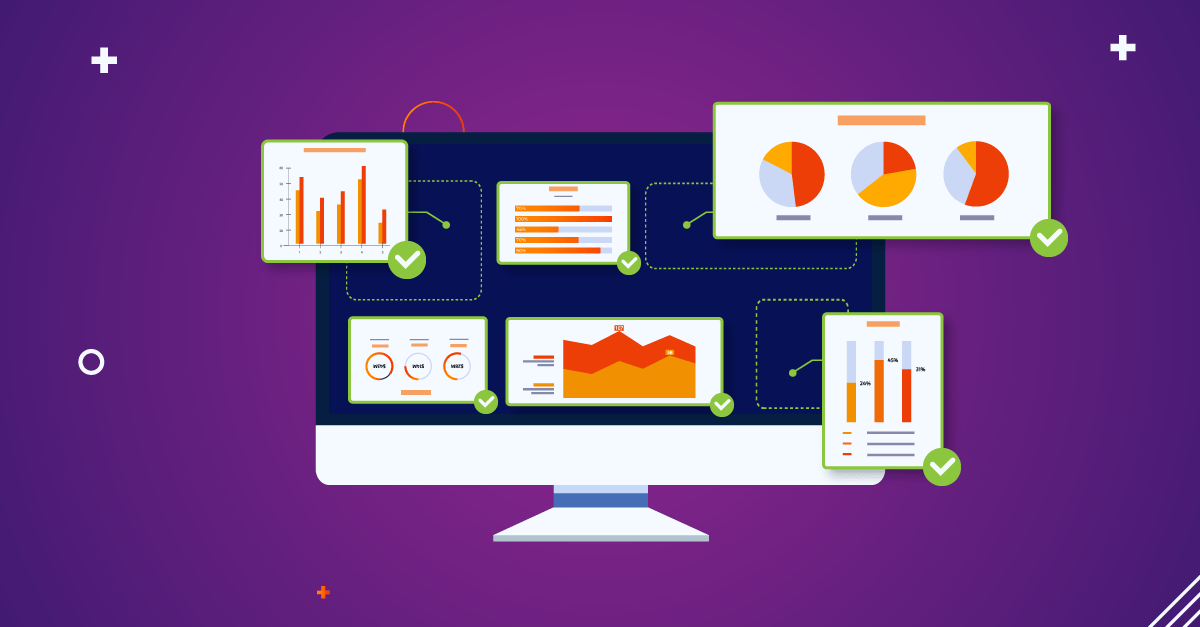 What is BI Report Testing?  
Imagine this. You're the CEO of a growing company. You're standing at a critical crossroads, needing to choose the path that will shape your organization's future. The stakes are high, and the clock is ticking. But here's the catch: you're blindfolded, armed only with a dart, and hoping to hit the bullseye without knowing where it is. Sounds daunting, doesn't it? Yet, this is precisely what many businesses unknowingly do when they lack accurate and reliable BI reports and dashboards for decision-making. 
So, how can you turn this around? BI report testing solves this problem. BI report testing is the process of validating the accuracy and overall quality of business intelligence (BI) content, such as reports, dashboards, and data sources. It identifies issues that may affect the accuracy, performance, and quality of dashboards and reports that are used for decision-making.
To give you a more in-depth view of why BI testing is so important for ensuring analytics can be trusted for decision-making, this article will explain the benefits of BI report testing for CEOs and other C-level executives.
The Benefits of BI Report Testing
To help you better understand the importance of BI report testing for your organization and the positive impact it will have on your decision-making process, I want to share some of the main benefits it can bring. Because, let's be honest, would you want your C-level executives or yourself as a CEO to be making decisions "in the dark"? 
Data Modernization
Let's say your company is investing a lot in cloud computing, and so the IT department will be required to migrate legacy on-prem databases to Snowflake or Databricks, for example. When carrying out a database migration, you don't want to run the risk of platform downtime for business users, nor do you want to have broken content, inaccurate reports, or security breaches once you've finished the migration. Through automating security credential checks, and validating your BI reports and other content is accurate and functional, you can be reassured that your database migration projects are successful and decision-making continues to be based on trustworthy data.
Industry Regulatory Compliance
Almost every organization is subject to regulatory requirements and you probably fall into this category too! Take, for example, data privacy regulations such as GDPR. Your BI and analytics platform can be heavily impacted by this as it holds lots of sensitive or personal data. Putting regular testing in place will ensure that your reports always comply with business and regulatory requirements because if you get it wrong, you can be fined A LOT. It will also provide you with an audit trail of test results to ensure accountability and meet governance requirements.
Working in the financial services industry? Read more on how to be BCBS-239 compliant.
Curious to learn how Pharmaceutical companies can ensure 100% compliance? Read our article on the critical role of data analytics quality for clinical research.
Ensure the right security levels
Even within an organization, not all people will need or should have access to every report or dashboard. BI report testing ensures people only have access to the BI content they're supposed to have access to. This will ensure you have a trusted environment where data can be safely processed and used by the right people.
Maintain your Reputation
Every day organizations are making critical decisions based on their analytics, but can these be 100% trusted? Imagine communicating wrong, inaccurate information publicly. Your company's reputation is at risk.
As Warren Buffet once said, "It takes 20 years to build a reputation and 5 minutes to ruin it."
Let's take the example of Hertz; they were fined millions of dollars for publishing inaccurate financial reporting because of accounting errors made in a number of business units over multiple reporting periods. Comprehensive BI report testing would have avoided this huge error and provided assurance that the analytics were accurate and reliable.
Stronger Adoption of BI
Everyone knows that data and analytics help people move faster, get answers, find new business opportunities, and many companies call themselves "data-driven", but it's hard to achieve all that when the adoption rate for BI and analytics platforms still remains shockingly low (according to BARC and Eckerson, it currently is at 25%). Ensuring your analytics environment is consistently agile, always providing a positive user experience, and providing accurate analytics will ensure trust among users thus helping adoption. In fact, the lack of trust in these technologies is the second biggest barrier to adoption. Gain a competitive advantage by regularly carrying out testing to avoid platform disruption for users, improve data-driven decisions, and find new business opportunities.
Quicker Access to Innovation
Technology is innovating rapidly, and you need to have access to the latest features to stay ahead of your peers and keep up with this change of pace. However, some organizations are reluctant to upgrade to the latest and greatest because they're worried that the new functionalities will break the old ones. BI report testing will provide you with faster and safer upgrades because it ensures all content continues to function, by pinpointing the problem areas so you can take action and remediate regressions. At the same time, it helps drive user adoption thanks to the new features available all while ensuring the environment remains stable and functional. Automating your BI testing during projects such as these will save you time and money.
Better Predictions from AI Models
If you use artificial intelligence (AI) in your organization, just imagine this–you're using a dashboard that may or may not be accurate—in other words, you haven't tested it. You take a potentially wrong number and do something about it in your ERP or CRM, for example. Your "action" is now a data point… a junk data point that can skew the results and predictions of AI models, which in turn, leads to inaccurate insights and recommendations, introducing a ripple effect throughout the decision-making process. The ecosystem surrounding AI must be well governed and thanks to BI testing, you can be sure the inputs to AI models are trusted and an organization's AI-specific investments pay off.
BI Report Testing with Wiiisdom Ops
BI testing may seem like a mammoth project, but that's only if you decide to test manually! Wiiisdom Ops is a solution for BI and analytics platforms that automates your BI report testing. And the why in all of this? To minimize risk exposure and build trust in data and analytics.
One of our customers, Red Hat, has one of the biggest Tableau deployments in the world and they're leveraging Wiiisdom Ops to automate and scale their BI report testing saving them time, boosting confidence in decision-making, and catching more errors earlier on.
Have 100% assurance every time
Rather than making decisions blindfolded not knowing 100% if you can trust them, put in place automated BI report testing to make sure that when you get to a crossroads, the decision you make is the right one, based on accurate, reliable data. To help you with this, Wiiisdom Ops is your ally in ensuring your BI and analytics reports are working and performing correctly and reliably at all times. If you'd like to discuss how to automate your BI testing, get in touch with us today.