Govern Your

Data Analytics Platforms


To Comply With Regulatory Requirements
Data is extremely sensitive and as such, it gets more and more regulated. HIPAA, GDPR, BCBS-239, CCPA, FISMA, you name it. Almost every industry is impacted by more stringent regulatory requirements and you probably fall into that category.
BI & Data Analytics platforms are heavily impacted by this as they manipulate big loads of personal or critical data, and make it accessible to your collaborators and customers. Stop your organization from being at risk by implementing a proper BI and Analytics Governance strategy.
"Gartner predicts that by 2025, 60% of large organizations will use at least one Privacy-Enhancing Computation technique in analytics, business intelligence and/or cloud computing."
One of the most important forms of PEC is to implement what's needed to build a trusted data environment where data can be safely processed and used. Modern Analytics Governance techniques are indispensable today to ensure a trusted analytics environment and support a safe decision-making process.
Define your governance strategy, whatever the BI or Analytics platform you're using. Centralize and assess the quality of all your reports and dashboards. Remember, you just need one violation to be non-compliant.
Being compliant is a day-to-day discipline. Audits happen every year. You need to make sure that all the dashboards subject to regulations are consistently monitored. Get notified of any issue to quickly identify the root cause and fix it.
Don't leave the last mile of the data journey at risk
It's not because your data is trusted in the data warehouse that it can not be altered in the BI & Analytics layers. Adopt an end-to-end approach to build a trusted data environment.
Ensure the accuracy of data
Regulated organizations are relying on analytics to monitor and report on their compliance. They need to make sure they have trusted and verified outputs. Set your business rules, put your data within dashboards and reports under surveillance, and make sure your data is always accurate.
For regulatory purposes, you might be required to report on historical mistakes or failures that have occurred due to bad Data Analytics, in a given period. Document all the tests, pass or failed.
Monitoring large reporting environments requires technology. You can not afford to outsource this and let that data go outside of your organization. Leverage vendor APIs and rely on a trusted partner like Wiiisdom.
To get end-to-end analytics governance you need to govern both your data and your content. Automate the testing of your data and outputs, and eliminate manual and error-prone verifications. Prove the quality.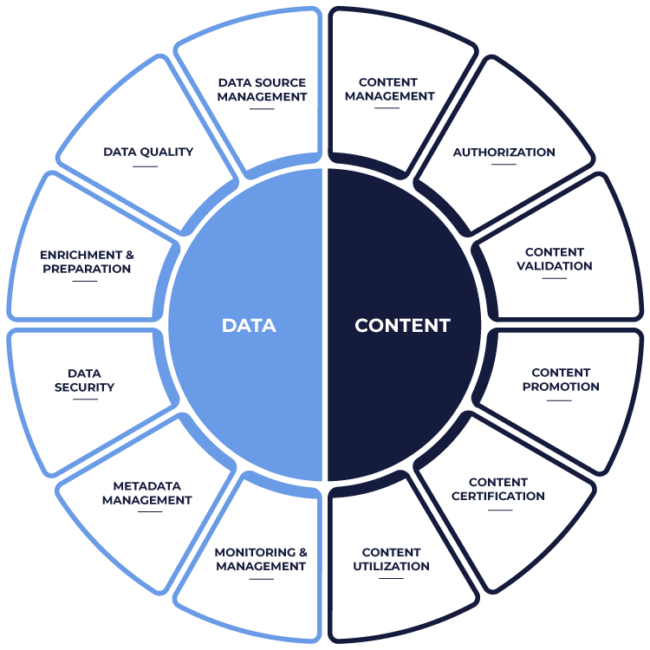 Source: Tableau Blueprint