Tableau and Wiiisdom Ops
for Slack!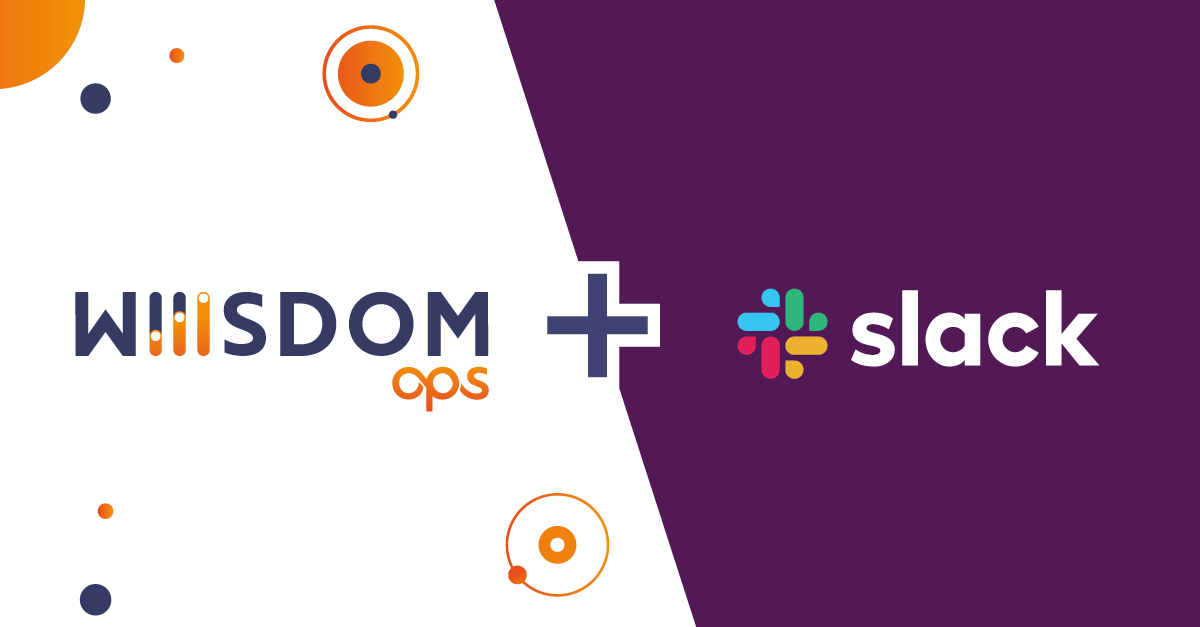 It has been an expensive few years for Salesforce! You know the story. A few billion was spent here and there to acquire two massively popular solutions and market leaders in their respective industries: Tableau Software and Slack.


It is great to see both finally coming together! A blog published by Francois Ajenstat, Chief Product Officer at Tableau Software, introduced the first integration released with Tableau 2021.3 and also some items from their roadmap.
Tableau for Slack – What is it for?
With Tableau for Slack you can:
Empower everyone with insights:

Share important insights with everyone who matters. Bring more people to the conversation to collaborate, get it done faster, and celebrate successes.

Stay on top of your data:

Set alerts to notify business users in Slack when key data changes occur or meet a specified threshold. 

Make smarter decisions, faster:

Whether collaborating with a broader team or jumping into Tableau to dig deeper, Slack and Tableau help you get the right data, in the right place, at the right time, to the right people to take action in the flow of business.

Put data in the flow of work in Slack:

Data-driven alerts, shared content, @mentions.
Tableau for Slack – Why?
There are a few reasons in the blog post but I love these use cases:
Reviewing the sales pipeline with your team

Sharing performance metrics with stakeholders

Prepping a dashboard for a client or presentation
These of course fit well for many aspects of the Tableau Blueprint.

Wiiisdom Ops – formerly Kinesis-CI – is an agile solution that enables you to automate your Tableau Testing so that people can trust the decisions they make.
Ensure data quality: Quality in Analytics is a must-have, especially when dealing with sensitive information or when making business-critical decisions. Always be one step ahead of your users by testing your dashboards to spot any potential issues before they do.
Continuously integrate and deploy Tableau dashboards: Dramatically improve time to value by adapting CI/CD methodologies to your Tableau Development initiatives.
Improve the user experience: Ensure high usability and performance of your Tableau Dashboard and increase the overall user adoption.
Eliminate all risk to Analytics: Leading organizations need to trust the data upon which they make decisions. Avoid making poor decisions by granting the best-trusted analytics platform.
Wiiisdom Ops for Tableau and Slack!
In this scenario, you may be a developer implementing changes to a corporate Tableau Dashboard. Using the new Tableau for Slack integration you can now inform your colleagues that the work is done and ready for validation.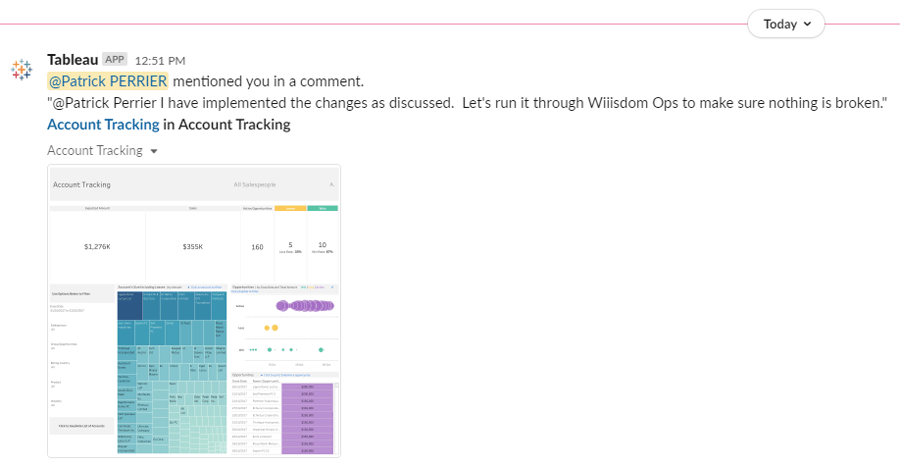 Without Wiiisdom Ops, the next few steps would be a time-consuming and manual process. Prone to mistakes and errors.
Am I returning the right data? Does it look as expected?

Are the interactions (filters, parameters) and navigations (marks, tabs) working?

Is it slower than before?

Etc
Using Wiiisdom Ops, you can automatically test with over 20 different kinds of Functional, Regression, and Performance tasks to make sure everything is working as it should be.
Example of how you are notified in Slack: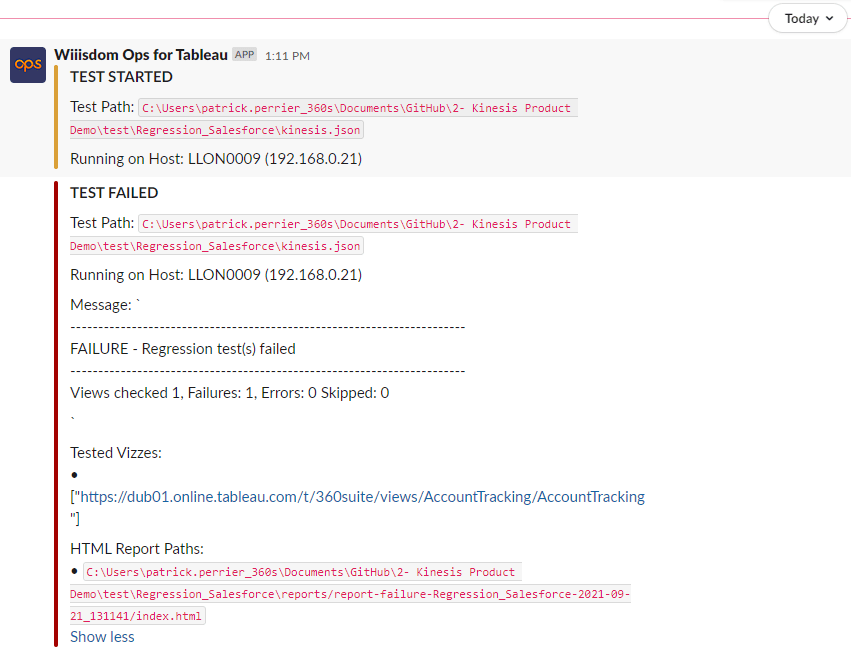 Here is a comparison against a baseline taken previously. Using Wiiisdom Ops you can quickly see that there are image and data regressions.
Before: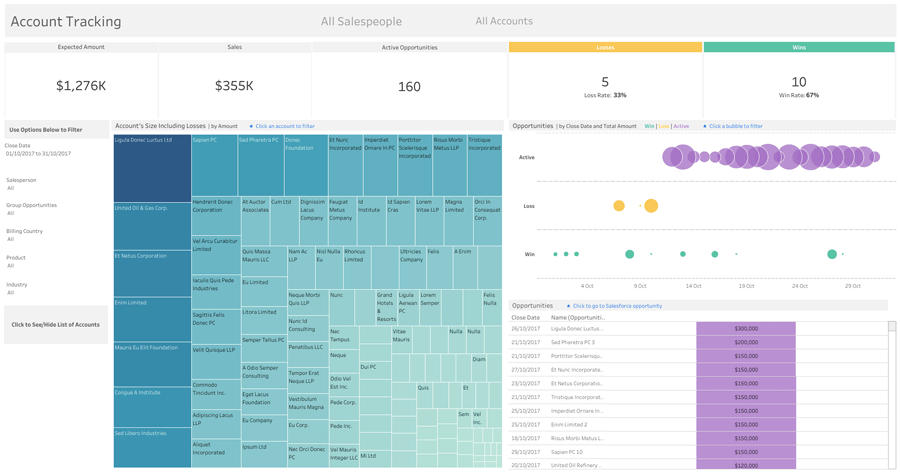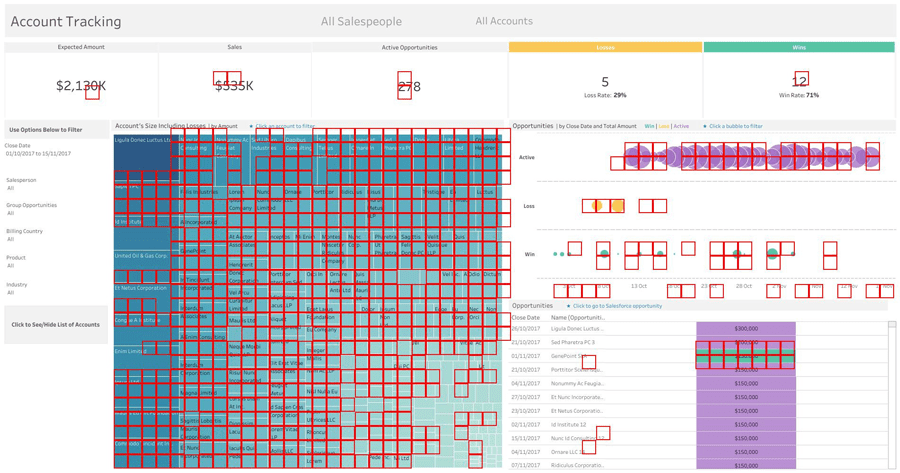 The cause? Using the test report you would notice in this case that a data filter was wrongly set. All this in minutes, not hours. Repeatable as often as you want. Without errors.
Please do get in touch if you want to know more! You can also of course try it.