What Is Tableau Blueprint?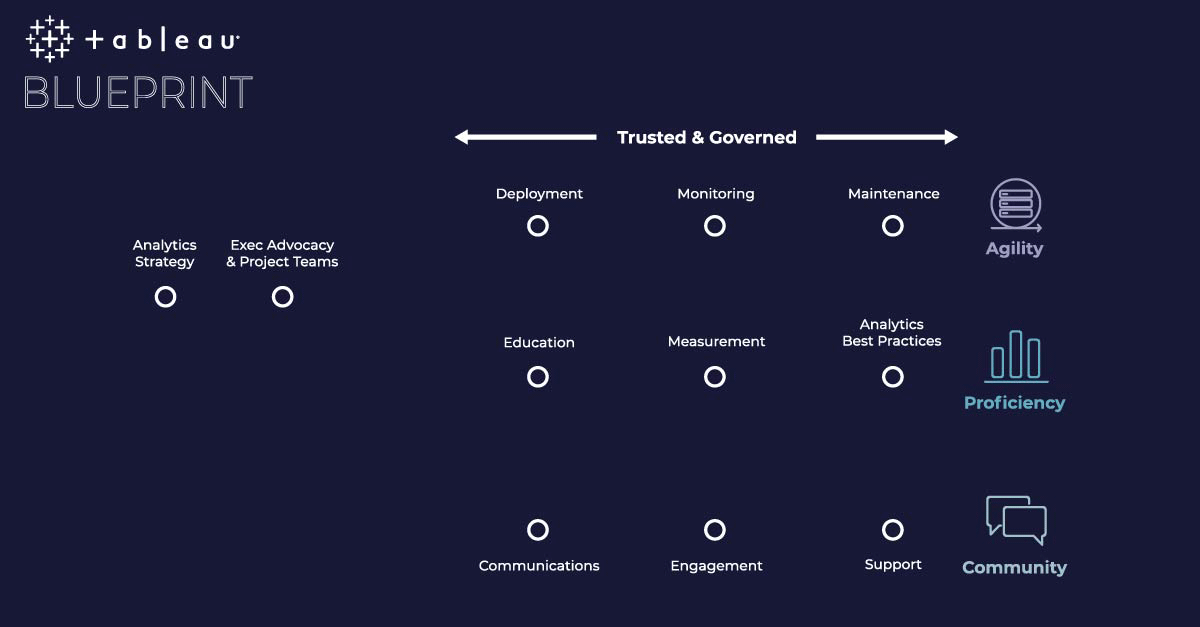 In Data We Must Trust
During a 2021 Tableau user group, Jeremy Blaney quoted "Data gives people a superpower and when people tap into that power they do incredible things." Today, more and more organizations are using data to make decisions and striving to have self-service analytics. To become data-driven, organizations need to have data that users trust, however, four out of five CEOs don't trust the data upon which they make their decisions (KPMG, 2019). At Wiiisdom, we believe that to have this trust organizations need to implement agile methodologies to truly maximize the value of Analytics. In order to do this, Tableau introduced Tableau Blueprint to give organizations a framework they can rely on and scale to become data-driven. This article will explain what it all entails. 
What is Tableau Blueprint?
Tableau Blueprint is a step-by-step methodology to help a whole organization become data-driven. In essence, the framework provides the rules of the road to establishing governance and enabling higher adoption of Tableau. Tableau Blueprint isn't something new but it's a proven methodology with a common vocabulary that allows BI and Analytics leaders to answer all the why questions and to find opportunities from the data in their analytics platforms. It equally helps build a data culture within an organization, in other words, data is woven into all aspects of a business in order to be fully data-driven.
The Tableau Blueprint framework takes you on its own subway journey with station stops along the way to teach and show organizations the best practices of becoming data-driven. One station stop is equally important as another because combined it gives the keys to any organization to use Tableau and self-service analytics in the best way possible. In the next section, I'll take you on a quick journey along the Tableau Blueprint subway to show you the steps to success. 
The Tableau Blueprint Subway Journey
In any data-driven organization, you will find agility, proficiency, and community; three capabilities that should be at the heart of a business. Measuring and understanding the impact they have on an organization's transformation with data and analytics is vital to fulfilling Tableau Blueprint, and it's here where governance becomes critical in order to have successful self-service analytics.  
The first route on the Tableau Blueprint subway is towards Agility. To achieve Agility there are three stops along the way; deployment, monitoring, and maintenance. The focus here is on ensuring room for flexibility in choice to meet today's technology needs and those of the future. 
Deployment: building, sizing, and securing your analytics environment.

Monitoring: maintaining ​​availability, capacity, utilization, and user engagement.

Maintenance: implementing automated testing processes to support the increased use of analytics. 
Subway route number two is Proficiency with three other stops to reach it; education, measurement, and analytics best practices. According to McKinsey, education is one of the top five challenges to reaching a company's objective of becoming data-driven, therefore it's important to put plans in place to involve everyone within an organization. The Proficiency route focuses on educating and best practices to increase data fluency. 
Education: creating learning plans for every employee along with ways to validate the knowledge learned.

Measurement: ensuring the data and content is being consumed by measuring user engagement and adoption. 

Analytics Best Practices: providing documentation to all users and introducing best practices that drive informed decision-making. 
The final route is Community; groups of users in an organization who use data to share, collaborate and learn from others, with particular emphasis on driving user growth. 
Communications: establishing regular internal communications to support people in the learning process. 

Engagement: reinforcing the vision by organizing user groups and activities to promote the use of Tableau. 

Support: putting in place an effective and efficient support system for all users. 
Ready To Hop On?
Implementing a comprehensive plan for each stop on the three workstreams will guarantee that you are taking a holistic approach in driving your whole organization to adopt data and analytics. Tableau Blueprint is a framework that will help organizations to build up their core analytics capabilities in order for BI and Analytics professionals to make data-driven decisions. 
Read the next part of our 4-part series of Tableau Blueprint content on the reasons why you should put this framework in place.