Discover The Tableau Updates
Of 2020 And Beyond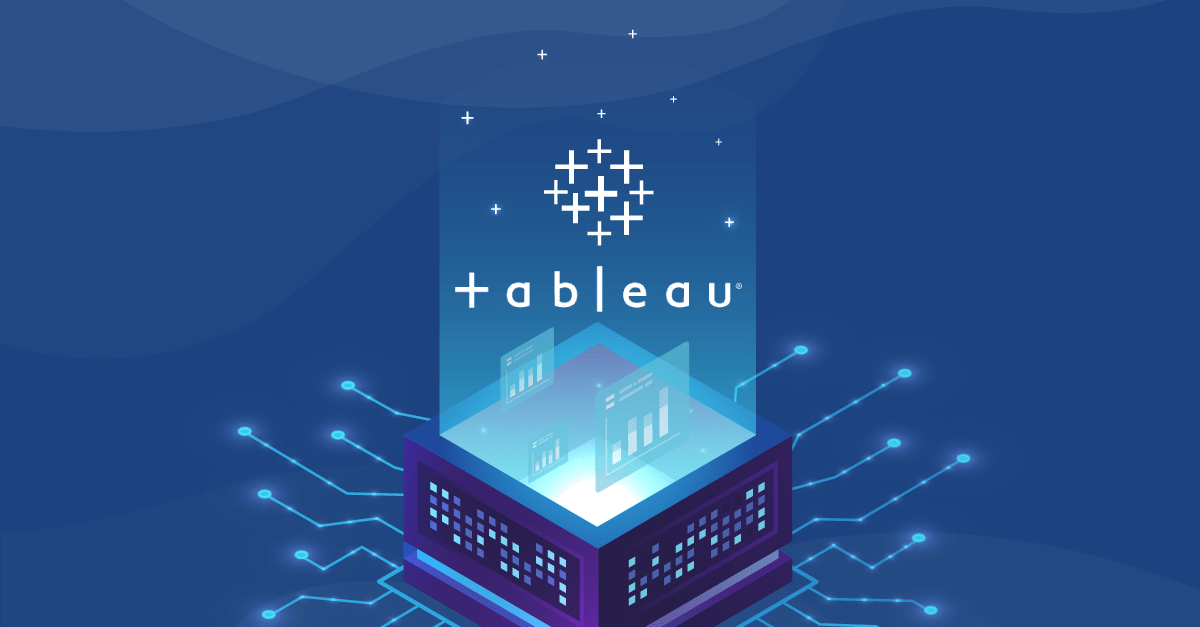 There's Always Time For Innovation
We recently had the pleasure of collaborating with Tableau experts to present the latest innovations available in Tableau, and we certainly weren't disappointed! Since 2020, Tableau has released some great new functionalities and features which will facilitate users even more in their deployment. In this article, we'll show you a hand-picked selection of the best innovations released last year, as well as innovations that you can look forward to in 2021 and beyond.
2020 Tableau Innovations
Tableau completely spoiled us in 2020 with innovations and I'm sure you're going to enjoy testing them out. I've split them into three categories so let's kick off with category number one: 
Data Prep and Data Model
New Connectors
Tableau regularly updates its connector options and 2020 brought two new updates: 
Salesforce connectors: There is greater flexibility for connections and faster performance with more capabilities, plus some tweaks to how Salesforce and the custom SQL communicate with each other. 

Snowflake connector: You can now override the role permissions through the Tableau connector. 
Write To External Databases
This innovation allows you to write the results of your data preparation in external databases — an innovation Tableau experts were very excited about!
Relationships
One of the new data modeling capabilities released was Relationships; a flexible way to combine data from multiple tables for analysis. When you create a Relationship, Tableau uses "noodles" to represent the relationship between two or more tables and will automatically choose related fields if it can. It's a great innovation for power users and developers to get to their data quicker.
Tableau Prep Builder On The Web
The Tableau Prep Builder can now be accessed via a web browser instead of having to install it on-premise with nearly all functionalities available.
Visualization 
Customizable Discover Pane 
When you first open up Tableau you have the Discover page on the right-hand side with helpful resources for you. This can now be customizable to tailor it to your company. It's a great way to help incorporate Tableau within your company and for your users to access content that is relevant to them. A small but impactful innovation.
Viz Animation 
Being able to animate your visualization is a great way to understand the progress of your data over months or years. It's a fun way to look at your data and makes it easier to find patterns, spikes, or trends!
Buffer Calculations
Tableau has added two new calculations: 'buffer' and 'makepoint'. The 'makepoint' chooses a latitude and longitude of a situation of a particular city in which you then make a point around that location (in km, miles, feet, etc). It then buffers the point for a given amount. It allows you to filter these buffer ranges and see if any ranges overlap with each other or if there are any competing zones. For example, a hospital would use this to look at the distance patients were from their doctor's office to see if they were traveling too far to reach a practice.
Multiple Marks Layer
Let's take the example of creating a map visualization for the number of sales per country. Rather than just being able to see the number of sales per country, you can now add an extra layer to show for example if a country achieved its sales objectives. To add this extra layer, you need to create a Calculated Field, and you can choose to display this second layer in whatever way you like, for example, a tick if achieved and a cross if not. It's a great way to display more data insights in just one visualization.
Dynamic Parameters
When you create a parameter based on for example a certain column of data, if you close the workbook and then re-open it another time, the parameter will automatically update itself to contain the newest set of values from the column it was created from.
Export Dashboard
There is now the option to export your dashboard with a button on the visualization that you can drag and drop wherever you like. 
Explain Data
Let's say you have an animated visualization of a map, Explain Data gives you a drop-out menu explaining exactly what's going on with the data. It gives you more insights into the data without the need to create other dashboards to get there. 
Play Button
A tiny but great innovation is that the play button is now available in Tableau Online (now Tableau Cloud). 
IT Governance
Site Role Allocation Limits
This one is a great update, in particular for the administration side. Administrators can now limit the way site licenses are used and allocate licenses to whoever they want. They can choose exactly how many Viewers, Creators, and Explorers there are.
Nested Projects Permissions
Originally if the top-level project was locked, all nested projects were locked too, but now Tableau has updated this with the possibility of locking or unlocking nested projects independently.
External File Store
As part of the Server Management Add-on, you can now leverage network storage devices for backup snapshots which significantly reduces the time required to perform a backup. You can also use this new capability to streamline your deployment topology by centralizing your file store, eliminating the need to run file stores on multiple nodes in a Tableau Server Cluster. This is particularly useful for large organizations with hundreds of workbooks as backups will run faster and more backups will be able to run at the same time. From a technical perspective, this is an amazing update. 
Login Based License Management
This innovation makes it easier to package and deploy Tableau Desktop and Tableau Prep to end users, eliminating the need to distribute and manage individual license keys. It also provides visibility into Creator seat usage through a single, centralized view, allowing you to see exactly who's logging on and using Tableau. You'll be able to potentially cut costs on the number of licenses and only keep those being used. 
Tableau Innovations We Can Look Forward To
Now that we've seen the innovations released in 2020, let's take a look at what is to come in 2021 and beyond: 
Einstein Discovery
This future innovation is a Salesforce technology allowing you to do data exploration and predictive analysis in a few simple clicks. It works by defining an Objective such as maximize or minimize an output. There are two types of outputs: Boolean or a Number. The Einstein Discovery allows you to predict answers to important questions based on your business objectives such as:
What revenue can I expect?

Is it likely that I'll lose this client?

Will this student get her degree in time?

What's the probability of converting this opportunity into a contract? 
Bear in mind with this innovation is that you will need a Salesforce account. The predictions will be made on data on Salesforce plus any external data and the great thing about this is that you can access your predictions on a user-friendly interface without writing a single line of code. Once your predictions are in place you can then integrate them within your Tableau platform, either by adding an extension to your dashboard or creating a Calculated Field. 
Quick LODs
There is now the possibility to generate FIXED LODs by dragging a measure onto a dimension. However, be aware that LODs calculations create nested queries that can damage your platform performance, plus it's important you understand the order of operations in Tableau.
Azure Connectors
Tableau is hoping to add two new connectors for Azure in the coming months: Azure SQL Database and Azure Data Lake. They will also be adding the Azure Active Directory (Synapse, Databricks, and SQL Database). 
Licensing Change
There are three types of licenses on Tableau: Creator, Explorer, and Viewer, and soon you'll be able to simply buy three or four licenses instead of a pack of 100. This will allow smaller businesses to take advantage of Tableau. Another new innovation, and a real game-changer for Administrators, is that they will no longer need to restart the server to add new licenses meaning no server downtime at all. 
Personal Space In Tableau Server
Another big game-changer for Tableau users. For those with content on Tableau Server, each user will have a personal space for their files in development before sharing them with others. Today, administrators have to manage the rights for each file but with these personal spaces, they'll no longer have to manage every individual file. 
Collections In Tableau Server
Today, Tableau users organize their files as 'projects' but soon you'll be able to have 'collections'. You will be able to gather different content of the same theme from different users in one place — a bit like a Spotify playlist with the content of different artists under one roof. 
Automated Data Line Security 
Currently, you have to do this manually for each element but soon you'll have a centralized system and a better view of who has access to what on your Tableau platform. 
Ready, Set, Innovate!
Tableau certainly spoiled us with innovations over the past year and there are still more to come! If you want to follow these evolutions and know what's coming up next, here are some useful links to check out:
Coming soon to Tableau: https://www.tableau.com/products/coming-soon
Join the beta: https://prerelease.tableau.com/welcome/
New features available: https://www.tableau.com/products/new-features 
If you're planning on upgrading soon, remember to carry out functional testing to make sure your dashboards are working as they should be. Learn more here.