Overcoming The Limitations of Tabjolt for Tableau Testing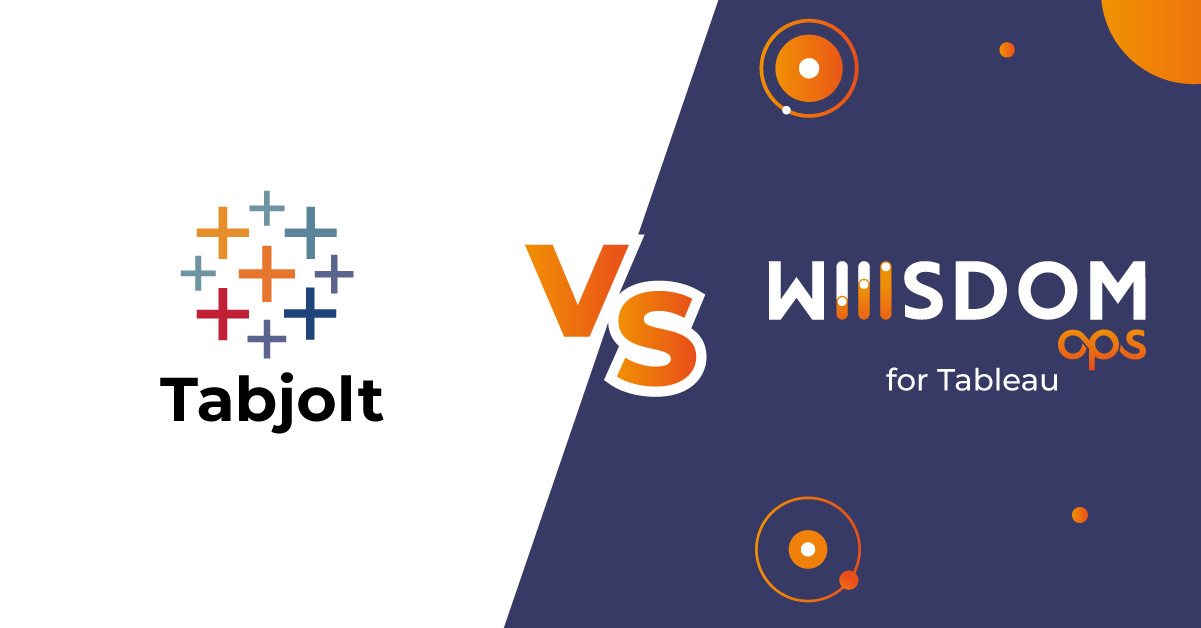 Introduction to Tabjolt and Wiiisdom Ops for Tableau Performance Testing
If you're reading this blog post, you might be looking for a performance testing solution for Tableau and you're wondering why solutions like Wiiisdom Ops exist on the market.
Tabjolt is a load and performance testing tool specifically designed for Tableau Server and a tool that our solution, Wiiisdom Ops, leverages by default. Wiiisdom Ops also provides load and performance testing capabilities for both Tableau Cloud and Tableau Server. So you might be wondering what the value added by our solution is in comparison with Tabjolt, and this is what we will highlight here.
Limitations of Tabjolt for Tableau Performance Testing
Despite the popularity of Tabjolt, there are some limitations to its capabilities for testing the performance of your Tableau dashboards:
It's a community tool created by developers to solve a specific problem and requires more in-depth technical knowledge to be able to use it. 

Tabjolt requires additional installation, specifically needing a database that isn't easy to use or implement. 

In order to launch a Tableau performance test within Tabjolt, you need to know the command line tool. 

The configuration files need to be updated manually. 

Tabjolt doesn't provide pre-canned results; a dashboard is required to be able to analyze the results. 

The Tabjolt Tableau performance testing tool requires more maintenance. 
Why Choose Wiiisdom Ops?
Wiiisdom Ops performance testing solution provides additional value when it comes to testing your Tableau dashboards. Wiiisdom Ops for Tableau uses Tabjolt but makes it more usable and scalable for customers. We looked at Tabjolt and its limitations and put in place further improvements:
Ease of Use
Wiiisdom Ops is an easy-to-use solution that does not require any knowledge of command line or code. Its no-code or low-code capabilities allow non-expert users to set up test cases very easily, thus increasing the adoption of the tool and thus accelerating its quality. We have published a detailed article on how to set up a performance test in Wiiisdom Ops.
Takeaway Results
You run performance tests and get the response time, and then what? Our solution provides pre-canned testing goals such as acceptable response time, availability goal, and Apdex score. Once the test is completed, it then provides pre-canned reporting so that you can easily analyze which performance goal passed or failed. These results are then easily shareable, for example with your internal customers to prove objectives have been achieved.
Regular Maintenance
Unlike Tabjolt, Wiiisdom Ops guarantees that each version of Tableau is compatible and maintained, maintenance and upgrades are included in your subscription to Wiiisdom Ops. This is an essential element because more and more regulations and standards require you to update your software regularly, and it is often not possible not to update software that could integrate vulnerabilities, as is the case more and more regularly. Wiiisdom Ops uses Tableau's APIs as part of its technology partnership.
CI/CD Integration
Wiiisdom Ops easily integrates into your CI/CD framework so that you can be sure every dashboard has been verified and tested before being pushed to production. I mean, what's the point in testing the performance sporadically? You want to make sure that performance monitoring is constant, and that you can take action if needed. In addition to that, it allows you to compare testing over different time periods.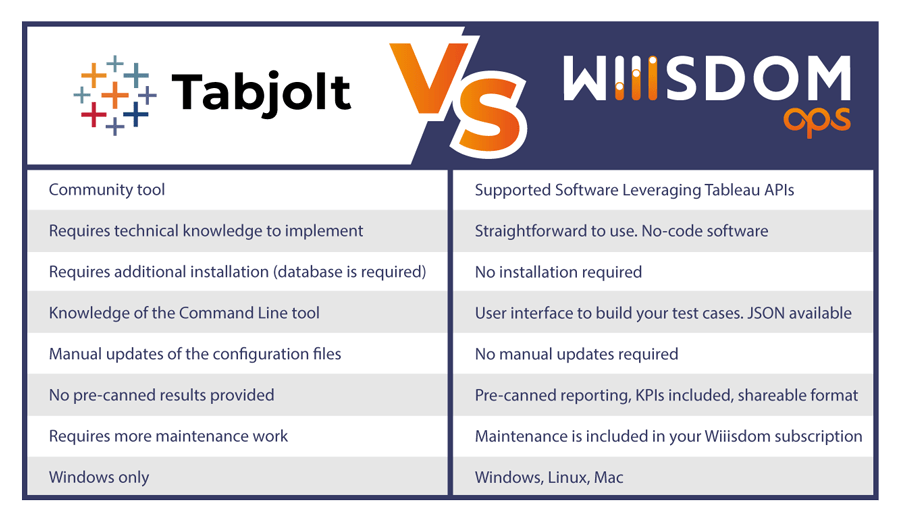 Ready to dig deeper? 
Tabjolt and Wiiisdom Ops are both worthwhile performance testing tools for Tableau, but what makes Wiiisdom Ops get ahead of the race is its easy implementation and set-up capabilities requiring zero technical knowledge to execute tests. This article only compares one capability of Wiiisdom Ops vs. Tabjolt but our product has many more capabilities.