8 Steps to Build a Business Case
for Data Analytics Quality
Overcoming The Problem Of Ungoverned Data Analytics
Nowadays, data is becoming more and more critical for public and private organizations. Its usage is forever increasing and use cases are multiplying. In regard to this, BI/Data Analytics technologies play a fundamental role as they allow decision-makers to have access to detailed data in an intelligible way in order to make the most accurate decisions possible. Although its interest is obvious, it is not enough on its own to remove all the risks and barriers to its intensive use. User acceptance remains a major challenge for organizations that want to democratize data-driven decisions.
So what can organizations do to overcome this problem and build user trust in the data they use for decision-making? Part of the answer lies in the data quality reporting processes.
In this article, we provide a structured approach for you to establish your business case for data Analytics quality solutions such as those provided by Wiiisdom.
Building The Business Case Step-By-Step
Building a business case and ensuring it is successful requires a step-by-step approach. It's not something that can simply be done overnight. Here you will discover the different steps you need to take to help build your business case: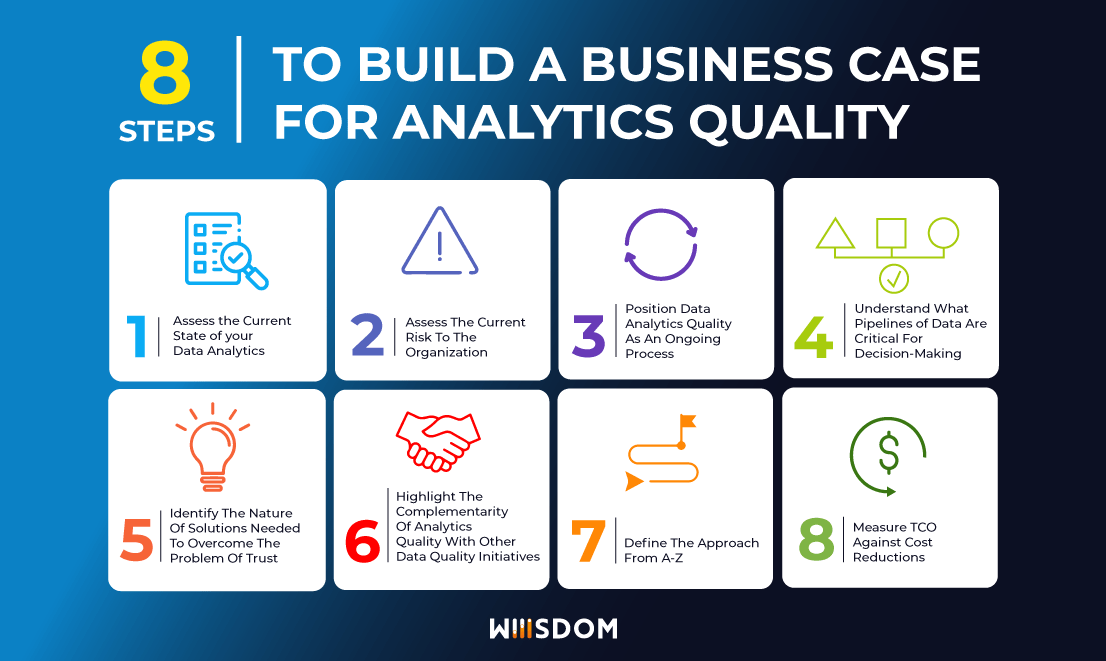 1. Assess the Current State of your Data Analytics
Data Analytics can provide golden opportunities for organizations because it gives insights and ensures the best decision-making. However, the "shiny" dashboards and visualizations will only get you so far. The Data Analytics presented may look good but it all comes down to one question: can the data that I see through reports, dashboards, or KPIs be trusted? Given the current adoption rate is 25% for BI and Analytics tools, clearly, there's a problem, and even more so when you realize that data trust is the number 2 barrier for user adoption. Therefore, the first thing you need to do when building the business case is to analyze the current state of your Analytics and answer these questions:
How is data analytics consumed today across your organization and by whom?
Identify the use cases where data is business-critical. This will help you determine the business leaders that will be most impacted by this investment and that you will need to convince.
Are your business users satisfied with the BI and Analytics solutions deployed in the organization? Are they complaining about the accuracy, availability, or performance of the system?
What is currently in place to ensure Data Analytics Quality? Who is in charge of this? How is this documented and monitored? 
This one is key because our customers often say that nobody is in charge of this even though everyone would say that the quality of the last mile of the data journey is critical.
What level of trust is granted by your users when consuming Analytics? 
If you have a trust score, then you can easily use it to justify the investment and to prove the progress over time. Be careful with this indicator though, as a good score doesn't mean there aren't any problems. Data consumers usually never realize there is a problem with quality, only when it's too late; which brings us to the next question;
What historical mistakes or failures have occurred due to bad Data Analytics? 
This one is complicated as nobody wants to make these failures heard. But, errors in data happen every day and can have huge consequences. Investigate your company's history and use them as reference case studies.
Is your data subject to industry regulations? Can you ensure end-to-end data quality?
Lots of organizations are compelled to provide reports to external rulers and auditors. This business case is critical as you need to ensure the data is always accurate or you're running the risk of getting fined.
2. Assess The Current Risk To The Organization
You then need to explain the implications of continuing like this so business leaders understand what problems of poor Data Analytics Quality could cause further down the line. Data Analytics is used to make decisions but if the Analytics can't be trusted, how can users be sure the decisions made are the right ones? Equally, how can decision-makers reput their trust in Analytics when they've already been presented with a dashboard that is wrong? 
One risk of poor Analytics governance is the increase of silos between departments. Analytics governance requires effort from the whole organization in order to drive value to the business and silos will only decrease that. Without a unified approach, organizations will fail to capitalize on business opportunities and will not see an increase in user adoption. You need to trace the information on who and what is impacted by poor data quality across your business. Combining a detailed data assessment (e.g. lead times, costs) along with the human impact (e.g. user satisfaction) will help strengthen your case. 
According to Gartner, most organizations solely focus on data quality improvement which unfortunately holds organizations back further along the data journey. The last mile of the data journey is the BI and Data Analytics layers and to be successful in ensuring good governance and adoption, you need to prove that data quality is no longer enough. In order to deliver the promise of business value with your case, your Analytics needs to be of the highest quality. We've written an article explaining why you can't simply stop at data quality and expect it to be the same once the data arrives in your Analytics solution.
3. Position Data Analytics Quality As An Ongoing Process
When presenting the business case, Analytics quality needs to be seen as a project with no finish line. Even if you achieve your desired outcomes, it must be a continuous effort by everyone. If Data and Analytics leaders and CDOs want to provide continual value to their organization, they must plan ongoing improvement assurance in their Analytics quality business case.
4. Understand What Data Is Critical For Decision-Making
Decision-making is at the heart of Data Analytics but it's important to know which data is the most critical for decisions and that will create positive outcomes. You need to therefore engage with key business leaders (CDO, CAO, LoBs) to explore where trusted, high-quality data is critical for business success.
5. Identify The Nature Of Solutions Needed To Overcome The Problem Of Trust
Overcoming the issue of trust requires high data Analytics quality and achieving this requires specific technologies to make sure dashboards perform as users expect them to do. Your business users and leaders need to know the Analytics they consume are 100% accurate at all times. The integrity of your Analytics is the integrity of your business.
Start by exploring the different categories of products that are available on the market to help you enhance the quality of your Analytics. Then list the benefits of each of them and their impact on the quality.

6. Highlight The Complementarity Of Analytics Quality With Other Data Quality Initiatives
The entire data journey requires different quality initiatives throughout and so within your business case, try to associate your data Analytics quality project with other strategic initiatives such as DataOps, MDM (Master Data Management), BI Fabric, and Data Governance to highlight why this investment is not specific to one project.
7. Define The Approach From A-Z
For your Analytics quality project, you need to define the whole approach from the steps required to fulfill the project to the technologies needed, actors involved, KPIs you want to follow, and the deliverables. After this, it then needs to be signed off by the key stakeholders within your organization.
8. Measure TCO Against Cost Reductions
Here is where you need to explain the ROI to stakeholders and why this project is worthwhile. Measure and explain the TCO against cost reductions, for example, human resources, manual testing, regulatory risks, and the cost of bad decisions. It's about building the story from a business point of view for your stakeholders. We've put together a list of questions you need to answer to help calculate the ROI here.
Present The Expected Outcomes Of The Business Case
The final part of your business case should explain the expected outcomes of the solutions and actions put in place. This will further convince your leaders to understand the benefits of investing in Data Analytics quality solutions. Some of the expected outcomes are as follows: 
Increased Analytics Trust 
Showing users how data is tested and governed should help increase trust in Analytics and therefore convince people to leverage data Analytics quality solutions. 
Increased ROI on your Data Initiatives and Projects
Higher Analytics quality will create an increase in trust and thus an increase in user adoption and usage. This in turn leads to better BI and Data Analytics ROI because it helps reveal new business opportunities, new customer preferences, and more in-depth insights. 
Accelerated Digital Transformation
Today organizations want to accelerate their digital business efforts and for this to be successful, they require trusted high-quality data. Investing in data Analytics quality solutions will ensure this trust at all times.
Enhanced Business Protection 
Ungoverned Data Analytics can potentially lead to detrimental consequences for an organization. Analytics that are continuously tested and governed however means you avoid this altogether and are protecting any risk to your business. It means there is verified data all along its journey behind every decision. For example, Risk Management leaders or CROs (Chief Revenue Officers) need to consider the risk of poor Analytics quality because not only do they consume data themselves which could be inaccurate, but also it becomes an operational risk in itself that needs to be addressed. Just think about banks' BCBS-239 compliance; CROs cannot rely on data quality alone to trust their reports. 
Guaranteed Regulatory Compliance 
Sensitive industries require an absolute error-free Analytics environment and with the help of Analytics Quality Management solutions, this will ensure these types of organizations have the highest standard of Analytics quality at all times to meet regulations. 
Start Building Your Business Case Today
Building a business case will be your ally in convincing your Data and Analytics leaders of the importance of Analytics quality for organizational success. It will create organizational alignment for everyone, ensure trusted Analytics at all times, and allow for the best data-driven decision-making. 
If you're looking for solutions to improve your data Analytics quality, get in touch and we'd be happy to discuss your project and help you build your business case.