AnalyticsOps:
The Last Mile
of DataOps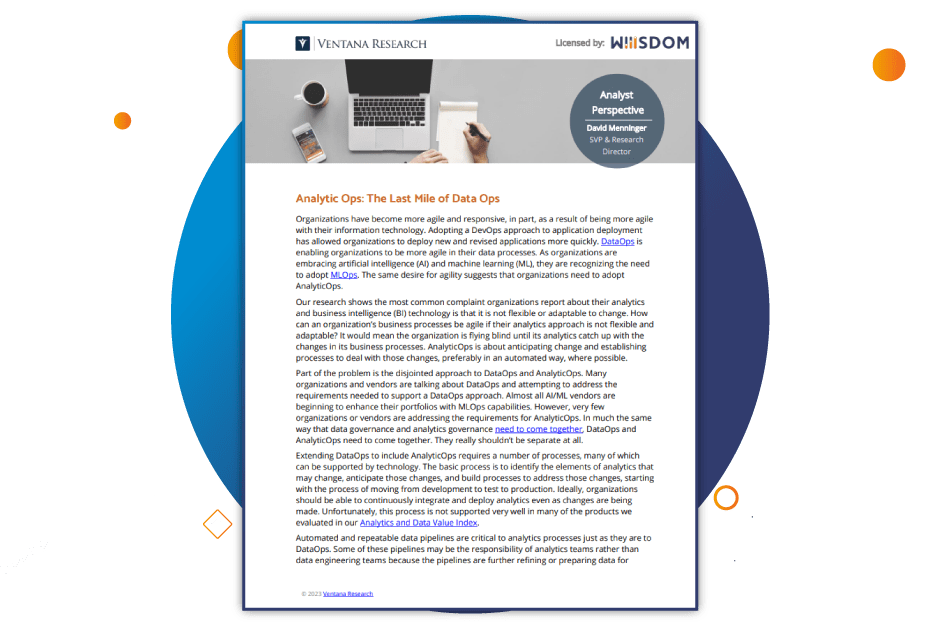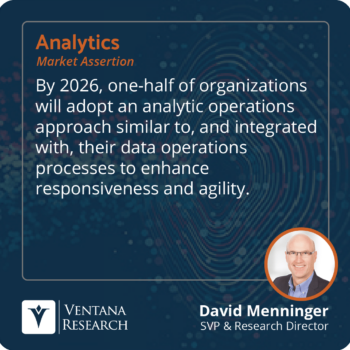 By 2024, Ventana Research expects that one-third of organizations will adopt an analytics operations (AnalyticsOps) approach similar to and integrated with their data operations processes to enhance responsiveness and agility. David Menninger explores analytics operations in this analyst perspective, highlighting how AnalyticsOps addresses the limitations of analytics and BI as well as the processes involved in implementing analytics operations in an organization.
Read the perspective to learn:
How an AnalyticsOps approach can address the limitations of analytics and BI, providing more flexibility and adaptability to change.
About the importance of extending DataOps to include AnalyticsOps, including improved organizational agility and responsiveness.
What processes are involved in implementing analytics operations.

Ventana Research is the most authoritative and respected market research and technology advisory services firm. We provide insight and expert guidance on mainstream and disruptive technologies through a unique set of research-based offerings including benchmark research and technology evaluation assessments, education workshops, and our research and advisory services, Ventana On-Demand. Our unparalleled understanding of the role of technology in optimizing business processes and performance and our best practices guidance are rooted in our rigorous research-based benchmarking of people, processes, information, and technology across business and IT functions in every industry. This benchmark research, plus our market coverage and in-depth knowledge of hundreds of technology providers, means we can deliver education and expertise to our clients to increase the value they derive from technology investments while reducing time, cost, and risk.