Vanderbilt University Medical Center Business Objects Upgrade and Epic Install
9 Steps to Success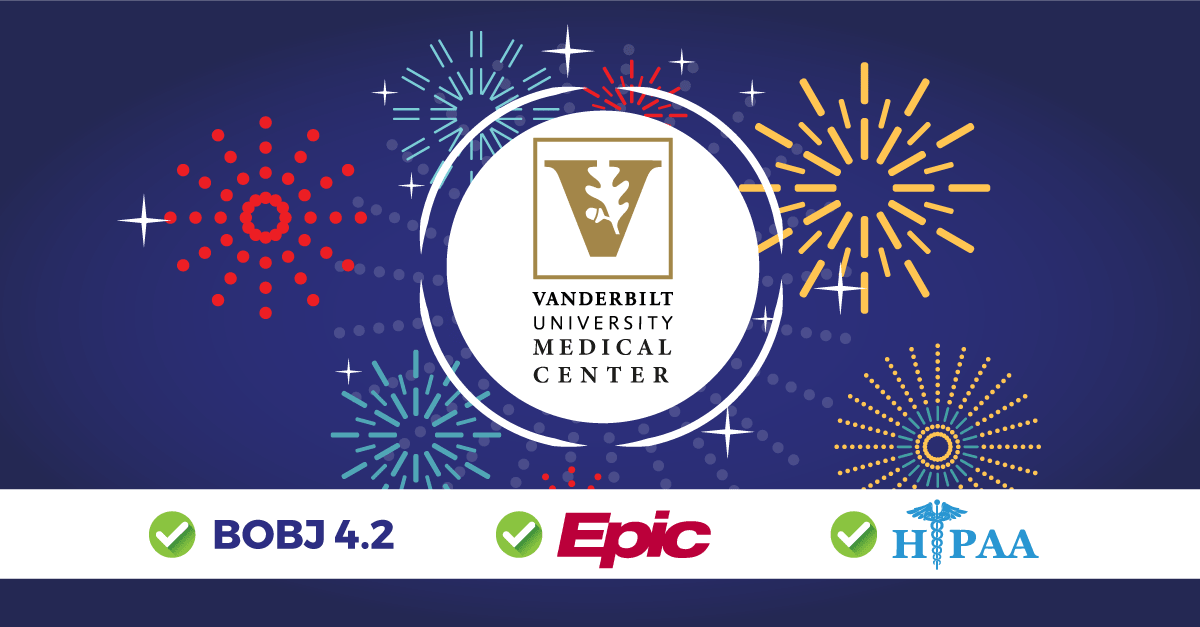 Like many organizations, Vanderbilt University Medical Center (VUMC) is marching toward a digital transformation and upgrading key software systems along the way. Recently, VUMC Application Server Administrator, Larry Morrow, was tasked with upgrading SAP BusinessObjects from 4.1 to 4.2, installing the latest version of Epic to maintain HIPAA standards, and integrating the two systems. Larry knew that a prior Business Objects upgrade had taken down the environment for seven days, so he searched for technology that would make the current upgrade easier, faster, safer, and cheaper.  After trying another product that failed to deliver the desired results, and following 12 months of testing, Larry and his team selected 360Suite.
A Series of Challenges
VUMC faced a series of challenges before and during the upgrade to Business Objects 4.2 and the installation of Epic. Four 360Suite solutions–360Eyes, 360Plus, 360View, and 360Bind–enabled VUMC to follow a nine-step path to success.

Challenge 1: Define Goal and Tasks
VUMC recently split from Vanderbilt University (VU) and became a separate entity. This complicated the Business Objects upgrade because it required Larry and his team to divide users into two separate groups. Vanderbilt had been using Business Objects as its primary reporting tool since 2005, so the environment was big:
170 production Universes
60k Universe objects
30k reports
12k users
Larry's team knew they wanted to clean up the environment (e.g., remove dormant users and unused reports) before the migration and they needed an action plan.
Step 1: Develop an Action Plan
Larry and his team used 360Eyes to generate reports, which served as the basis for understanding the scope of the migration and developing an action plan. 360Eyes plugs into the CMS, Audit, and FRS (input & output), extracts metadata, and stores it in a data mart. 360Eyes displays the metadata in canned Webi reports, which are familiar and accessible to end users who already rely on Business Objects for business intelligence reporting. In the case of VUMC, 360Eyes generated a full BI on BI assessment of the Business Objects landscape and made it possible for Larry's team to identify unutilized content, duplicate content, and user affiliation (VUMC versus VU).
Challenge 2: Avoid Disasters
A typical Business Objects recovery strategy involves backing up the entire Business Objects server and CMS database. This allows for a full system restore in the event of a disaster, but it's not suitable for selective rollbacks or for restoring individual deleted objects. It also fails to address corrupted environments (i.e., if an environment is corrupted, so too is the mirrored backup) and won't restore personal folders and security settings if users are accidentally deleted. Larry knew that VUMC had lots of objects and that every time they ran a full backup, it would take down the system for hours.
Step 2: Perform a Full Backup
Larry and his team used 360Plus to perform a full backup and they opted to take down production for 18 hours over a single weekend. Every night thereafter, they ran low-impact delta and dynamic incremental backups that didn't take down the system. Because 360Plus creates one BIAR file per object, Larry recognized that incremental backups would allow him to rollback to any previous version of any object in any folder at any time, which gave him confidence to tackle the migration. When a member of his team accidentally deleted all WebI reports, Larry was able to restore them in 45 minutes.
Challenge 3: Evaluate Users and Reports
Larry and his team had to split more than 12,000 users into two groups–VUMC and VU–and determine who still required access to Business Objects. They also had to determine which of the 30,000 existing reports (WebI, Crystal, Deski) should be retained. This required a good understanding of the users and reports, which Larry's team didn't have.
Step 3: Download Users and Reports
Larry and his team used 360View to download lists of users and reports into Excel spreadsheets that could be distributed to departments for review. In addition to a full download, they downloaded partial lists based on queries (e.g, users who never logged in, users who hadn't logged in for 3+ years, reports that weren't being used, etc.).
Challenge 4: Migrate Only What is Necessary
Larry and his team wanted to boost efficiency and enhance security by cleaning up the 4.1 environment before migrating to 4.2. This involved archiving and/or deleting users and reports based on feedback from the departments. It also involved recertifying the accounts of valid users.
Step 4: Clean Up / Recertify Users and Reports
When Larry distributed the user spreadsheets, he asked the departments to take the following actions:
Review all users;
DELETE the rows containing valid users–those who continued to be employed by VUMC and required access to BI tools; and
Return the spreadsheets, which now contained only users to be deleted.
Larry's team was then able to use 360View to import the lists back into the system and delete 4,000 users in bulk. Larry followed a similar process with reports and bulk deleted 12,000 obsolete reports that were taking up server space.
Challenge 5: Migrate Objects Efficiently
Larry originally planned to use the Business Objects migration tool, but it doesn't work for upgrades (e.g., 4.x to 4.x). The only workaround–to use the command line tool and write scripts–was impractical.
Step 5: Promote Objects from Business Objects 4.1 to 4.2
Larry and his team used 360Plus to schedule and promote objects, including large sets of objects, in a logical order (e.g, users, followed by groups, followed by access levels, followed by content), while keeping permissions intact. When a schedule needed to be adjusted, Larry retained complete control by managing the change online. 360Plus also made it possible to compare environments on the fly and recognize differences between them (e.g., what was created, modified or deleted).
Challenge 6: Clean Up After Migrating
After promoting all users, but before promoting all content to the new environment, Larry had to disable the users in the new system to prevent them from being active in both 4.1 and 4.2 simultaneously. Larry's team was installing Epic at the same time as it was upgrading to Business Objects 4.2, and needed to be able to isolate and enable only those users who required immediate access to Epic objects.
Step 6: Bulk Update and Validate
Larry and his team again used 360View to download lists of users into Excel spreadsheets that could be distributed to departments for review. This time, they asked the departments to identify users who required immediate access to HIPAA-compliant Epic objects. Larry was then able to import the lists back into the system and perform a bulk update.
Challenge 7: Create Epic Webi Reports
Since the latest version of Epic and underlying databases were brand new, VUMC's development team faced a huge reporting challenge. Epic includes 60 SAP BusinessObjects Universes, but no reports to expose data. Creating Webi reports from scratch requires an understanding of the objects in the Universes. But Epic provides little to no documentation, and Business Objects out-of-the-box requires report developers to search each Universe using the Information Design Tool, which is an extremely time-consuming and inefficient way to locate Universe objects.
Step 7: Review Epic Content
Larry and his team used 360Eyes to collect the information that analysts and developers needed to create Epic Webi reports and manage the Epic development lifecycle. 360Eyes displays metadata in Webi reports–a format that was easily leveraged by Larry's team, which was already familiar with Business Objects reporting. 360Eyes Webi reports allowed VUMC developers to easily access Epic Universes and create Epic Webi reports. The parallel reporting structure flattened the learning curve and made it possible for VUMC to develop Epic Webi reports quickly so business could move fast without stumbling over IT.
Challenge 8: Understand Dependencies
VUMC is now in the final stages of the Epic install. Business units and departments are still using the old environment, and Larry's team is promoting them to the new environment in stages. Larry wants to group them by dependencies so he can move departments simultaneously that rely on each others' reports.
Step 8: Review Other Content
Larry is currently using 360Eyes to generate Webi reports and expose metadata that answers questions, including:
What reports are in what folder?
What departments use what reports?
What content is used/not used?
When are reports actively used?
Has security been well implemented?
This information is helping Larry and his team formulate and document an efficient plan of action for promoting business units to Epic and SAP BusinessObjects in a logical order.
Challenge 9: Protect Against Regressions
Regression testing after an upgrade is important because end-users must rely on the accuracy of the new outputs. Manual regression testing is time-consuming, expensive, and prone to human error.
Step 9: Automate Regression Testing
This step is planned for the near future. BI analysts and users will use 360Bind to compare reports across Business Objects versions (e.g., 4.1 SP5 to 4.2 SP3) and ensure they generate the same results. In addition, developers will use 360Bind to ensure that the outcome of new Epic reports matches that of old pre-Epic reports. By automating the process and flagging differences, 360Bind takes the risk out of manual regression testing or not testing at all.
360Suite: The Path to Success
Not only did 360Suite help VUMC succeed in upgrading Business Objects and installing Epic, it also saved the organization money. 360Suite reduced daily administration time by 75% and saved VUMC more than $350k in consulting fees. 360Suite also created synergy between IT and business by speeding up the process and increasing user confidence in Business Objects.